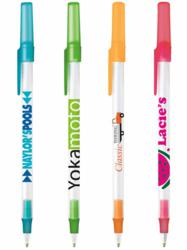 Seattle, WA (PRWEB) March 14, 2013
BIC Promo Pens has announced it will now be offering the BIC Round Stic Pen at its new reduced price of $0.29 cents per pen which includes one colour logo and message on the pens and free shipping anywhere in North America. The BIC Round Stic Pen is recognized as one of the the leading promotional pens in North America. Among the thousands of types of promotional pens available from BIC Promo Pens, BIC Round Stic Pens is considered to be one of the best sellers, known for its simplicity and style. The BIC Round Stic is rated the highest for restaurants, coffee shops, spas, medical and legal offices, bookstores and small businesses of any kind. Available in 3 ink colours, 27 different barrel and trim colors, the BIC Round Stic can be suited to meet the look and style of any company.
Custom BIC pens are one of the most effective marketing tools to enhance brand recognition for your company. With any type of text, custom pens make for excellent giveaways at trade shows, festivals or as a gift to customers as they sign documents or receipts. Pens are used daily and when interacting with customers, they make a great gesture of appreciation that will ensure clients remember a company's name. Custom pens keep any company's name in the hands of their clients consistently. With your logo, artwork or custom text, BIC Promo Pens offers this pen starting at 0.29 cents with free shipping and without any charge or set up fees.
BIC Promo Pens is dedicated to making sure that there is a pen that will work for every client in any industry. Promotional pens make for a keepsake, that clients will use consistently and regularly no matter where they go. They offer a reminder of a company's name in a convenient and quick way, whether customers engage with your business for a few minutes or a few years, they are sure to keep their custom pen. Each company is a unique expression of the business that they do and promotional pens get the message across in a cost-effective and unique way.
About BIC Promo Pens:
BIC Promo Pens has been providing BIC promotional pens for over 35 years and have helped over 300,000 customers increase brand awareness and customer loyalty through their high quality products. BIC Promo Pens can provide your company with quick and easy delivery within 48 hours to any city in the United States at no additional cost. To get more information about BIC Round Stic promotional pens and other printed promotional pens, please visit the BIC Promo Pen website.