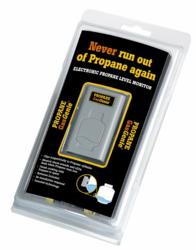 Installed this last week and grilled this weekend. Simple to install and it does the job! Played the tone, and I knew I had enough time to finish those steaks! -- K Hadacek
London (PRWEB) May 07, 2013
The real purpose of most of these competitions is to bring awareness of a product or service to a wide audience, in the hope that this will increase sales in due course. And getting the competition widely talked about is the key to its success.
The prize offered by competition organizers is usually a free sample of the product or service they are promoting. This could be as varied as a washing machine or a kitchen accessory or even a vacation.
Product Innovation Limited, of London wanted to make their competition prize more interesting, and may have hit on a whole new style of prize. The product they are promoting is called the Propane GasGenie and it is a BBQ accessory similiar to a propane level gauge that warns the user when his/her propane is running low. They claim it is the only product that actively warns in plenty of time to finish cooking what is on the grill. It also requires no installation, simply clipping magnetically to the side of the propane tank.
Their first thought was to run a competition in the usual way, offering a Propane GasGenie as a prize. Then the Chairman of the Company came up with the new idea: The standard Propane GasGenie starts playing a short, warble like tune as the gas gets to around 20% capacity. The Propane GasGenie will be personalized with a tune chosen by the winner.
The prize Propane GasGenie will work in the usual way, but when the gas gets low the tune played will be the one chosen by the winner. And the Company guarantee that this tune will never be offered to anyone else. In this way the winner will have a totally unique propane level gauge that no one else will ever get.
About Product Innovation Limited
Product Innovation Ltd is an established New Product Development consultancy specialising in inventing and developing new products for manufacturing companies. The company has been in business for more than 25 years and in that time has been involved in a wide range of new products many of which have worldwide patents. Visit http://www.productinnovation.com for additional information about Product Innovation Limited. More information about Propane GasGenie can be found at the following site. http://www.propanegasgenie.com.