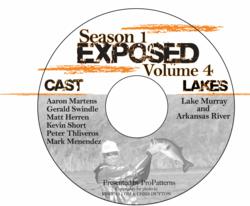 ProPatterns Exposed DVDs are very informative; they provide insight to another side of anglers and demonstrate techniques that can be adapted to a variety of situations
Yankton, SD (PRWEB) March 11, 2013
ProPatterns, Inc., the owner of the new educational fishing videos called Exposed, announces new marketing relationships established to promote the series. These relationships include Tacklewarehouse, Bass Pro Shops, and a host of other retail stores and online affiliates who are selling Exposed DVDs through some of their outlets.
"The Exposed video series was initially designed to be sold exclusively online, in a streaming fashion. The series involves the world's greatest bass anglers sharing information during an official practice day. Providing this information to everyone is the number one goal," said CEO and founder Chad Ekroth. "After a year of viewing and feedback from our audience, we determined some still prefer DVDs; we unanimously decided to start producing DVDs to allow our audience another option."
The addition of a conventional media format involving DVDs means a mixture of traditional marketing and online marketing. For example, ProPatterns continues to work with CommissionSoup to provide tracking of online product sales through Bass Pro Shops, but has extended the Bass Pro Shop relation to allow professional anglers to market DVDs in their stores. As well, several other retail tackle stores are now selling Exposed DVDs on their shelves. One new affiliate, Tacklewarehouse, sells Exposed DVDs exclusively through their online store, a more modern approach to selling merchandise. Tom Scott, buyer at Tacklewarehouse, commented "ProPatterns Exposed DVDs are very informative; they provide insight to another side of anglers and demonstrate techniques that can be adapted to a variety of situations."
Ekroth added, "Our branding and marketing efforts have even gone to television to help generate awareness to the educational venue we offer. In addition to online news releases about our company, we have placed an advertisement with TimmyHortonOutdoors, which currently airs on two outdoor channels."
About ProPatterns, Inc. services and the CEO:
ProPatterns, Inc. is a leader in online fishing education. Information is gathered from various sources and shared with members, but relationships among the company's partners within the outdoor industry provide the most credible information desired by consumers.
The company is based in Yankton, South Dakota, home of CEO and President Chad Ekroth. Ekroth's background includes tournament fishing where he participated in a few events with some of today's top anglers, including events where some of the Exposed anglers began their professional careers. Those fishing relationships and experiences helped nurture the connections which allowed the Exposed series to evolve to its current state.
In addition to Exposed the company provides online fishing journals for members, and the all new Fantasy Fishing competition which provides participants a chance to win a Grand Prize Pheasant Hunting trip to South Dakota with several of the Exposed anglers. The first entries for the 2013 Grand Prize competition are due on March 13.
Visit http://www.ProPatterns.com today to receive all of the latest information about the Exposed videos series, compete for the Grand Prize, and learn about all of the member services available.