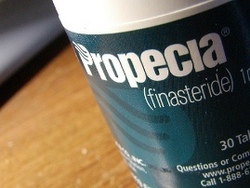 Finasteride actually shrank the prostate gland, so it appeared in initial studies that more cancer was being found in biopsies of men who took the drug
London, UK (PRWEB) March 6, 2009
The Belgravia Centre report that a lot of fuss is made about the possible short-term side-effects of Propecia, especially from its competing, but less effective products. But new evidence seems to indicate that Propecia may in fact significantly reduce the risks of prostate cancer.
Propecia is the most effective known product for the prevention and reversal of hair loss. It's the only FDA approved pill for the condition and clinical trials showed it to be successful in more than 80% of cases.
A million and one pills that claim to prevent hair loss can be found on the internet, some claiming to be more effective that Propecia, but that's not the case. Most of these products are natural and don't in fact have any evidence to back up their claims.
Many of them make quite a fuss of the so-called side effects that Propecia (generic name finasteride) can cause. Hair clinics that are unable to offer Propecia because they don't have a pharmacy frequently do the same. Well here are some facts:
Under 2% of men that took part in the Propecia clinical trials experienced side effects, which ranged from less desire for sex to a decrease in the amount of semen.
Because Propecia has a very short half-life (the amount of time it takes half the product to leave your body), Propecia leaves the body very quickly and therefore any side effects disperse soon after ceasing use of the drug. There have been no long-term side effects reported.
A recent study indicates that long-term use of Propecia may in fact be beneficial. It concluded that finasteride actually reduced the risk of developing prostate cancer and did not increase development of more aggressive cancers as an earlier study seemed to indicate, and the majority of tumors that finasteride prevented were those that could spread and cause death.
Dr. Ian Thompson, chair of the Department of Urology at the University of Texas Health Science Center at San Antonio and senior author of the study said, "We've now shown that the cancers prevented by finasteride are often clinically significant, the same kind of cancers that lead to surgery. In addition, we showed a 28 percent reduction of high-grade cancer with finasteride."
Researchers studied biopsies and prostate gland tissue that had been removed to see whether finasteride actually increased aggressive cancers in some men, and concluded that it did not.
"Finasteride actually shrank the prostate gland, so it appeared in initial studies that more cancer was being found in biopsies of men who took the drug," said Mary Redman, Ph.D., a biostatistician at the Fred Hutchinson Cancer Research Center.
"What that means is that the cancer took up more prostate tissue in men who were treated, and that is why it was easier to find in a biopsy. Cancer was probably missed more often in biopsies of men on a placebo drug because the prostate gland itself was larger," Redman said.
Redman also found there was no evidence that the drug increased the rate of aggressive tumors and likely decreased their rate by 27 percent.
Extensive information on Propecia and the other medically proven treatments for hair loss can be found on belgraviacentre.com.
# # #