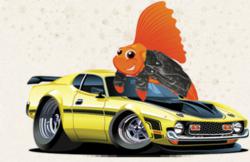 I'm shocked at the things I sometimes hear people say that they believe are true. There are so many invalid notions out there that people keep about money, and finance in general.
New York, NY (PRWEB) March 05, 2013
RoadFish.com men's lifestyle and finance magazine today issued their statement regarding a recent inference that, contrary to popular belief, consumers keeping their credit spending under 30% of their available credit would not in fact allow them to achieve a high credit score. RoadFish.com shared their insights into these findings, and presented consumers with ways to balance their credit card usage with earning themselves a good credit score.
Dana Dratch of Fox Business authored a recent article disbanding the popular adage claiming that if consumers wish to maintain a good credit score, they can do so by keeping their credit utilization ratio under 30%. As an example reported by Dratch, this means that if a consumer had a credit card with a limit of $10,000, according to the popular axiom they could get the best creditscore by keeping their balance below $3,000. Dratch warns that this rule of thumb is not necessarily true, and suggests that consumers keep their usage rate to between the 10-20% range.
RoadFish.com feels as though there are a lot of financial myths out there that people have taken as fact, and warns consumers to always do their own research if they aspire to be truly financially successful. RoadFish.com's Senior staff writer is quoted as saying, "I'm shocked at the things I sometimes hear people say that they believe are true. There are so many invalid notions out there that people keep about money, and finance in general. Some people think that they shouldn't put any money on a credit card, because any debt gives them a bad credit score. Others believe that the more they make, the wealthier they'll be. This can be true, but these are the same people who tend to spend as much as they earn, so it's not necessarily always the truth. And still others I meet have very uncertain notions about how credit reports work, and how their scores are calculated. I would urge consumers to reach out and do some research before conducting their finances based on hearsay."
RoadFish.com recommends that if consumers are looking to capitalize on their credit utilization ratio, or how much of their available credit they've used, the most obvious way is to cut down what they charge to their credit cards. If this isn't an option, RoadFish.com points out that borrowers can always contact their banks and request that they be given a bigger credit limit. In essence this action works the same way as lowering monthly balances would, except that the consumer can continue to spend as normal.
Dratch points out in her article that not all cards report utilization rations. She states that some true charge credit cards do not report credit card balances to the credit bureaus, and explains that these types of cards are those wherein the full balance is due each month. Having a card that won't report monthly card charges therefore means that it does not make a difference one way or the other if the cardholder uses a little of their available limit, or a lot. It will not affect that individual's credit score either way.
About RoadFish.com:
RoadFish.com men's lifestyle and finance online magazine is a popular publication intended for male readers in their 30's and 40's who have achieved a moderate level of success in life. RoadFish.com offers lifestyle stories, such as men's luxury items, restaurant reviews, and advice on dating. The magazine also includes weekly personal finance columns, educating readers on how to maintain a monthly budget, teach their children about finances, and how college kids can establish credit. RoadFish.com is owned and operated by Purpose, Inc.