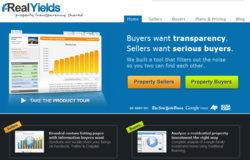 "By partnering with RealYields, the BiggerPockets community is able to enhance it's growing base of applications and tools which make our members more knowledgeable and profitable investors,"
New York, NY (Vocus/PRWEB) January 17, 2011
BiggerPockets, the largest real estate investor community, announced that it has partnered with RealYields to offer social property analysis and marketing. Through this joint venture, BiggerPockets continues to increase its platform of applications available to members.
The partnership will specifically provide the RealYields property analysis and marketing technology to the BiggerPockets member framework. Members will be able to use RealYields to evaluate investment property for purchase or sale.
RealYields offers buyers the ability to quickly analyze residential properties for investment feasibility using landlord, lease-purchase, or fix-and-flip strategies. For real estate professionals and sellers, RealYields provides a platform in which one can easily publish a property to the web and share it across social platforms such as Facebook and Twitter. In addition properties can be syndicated to major property listing sites, such as Trulia, Google Base, Oodle, and Vast.
"By partnering with RealYields, the BiggerPockets community is able to enhance its growing base of applications and tools which make our members more knowledgeable and profitable investors," said Joshua Dorkin, CEO of BiggerPockets.
"We're thrilled to work with BiggerPockets," said Ryan Hinricher, Director of Corporate Strategy & Housing Analyst. "There is a transparency problem between buyers and sellers. We believe both sides are losing because of this lack of transparency. We built Realyields to give buyers the relevant investment analysis they need to make informed buying decisions and sellers the platform to deliver this information clearly and efficiently."
RealYields is a cloud-based property analysis and marketing application. The application allows buyers, sellers, and real estate professionals to evaluate, publish, and share property performance metrics and investment property listings. RealYields was founded in 2010 by Manish Patel. The company is headquartered in Austin, TX and has satellite offices in New York and Memphis.
BiggerPockets is the premier real estate social network, real estate investing resource directory, and community. The company was founded by CEO Joshua Dorkin and is based in Denver, CO. BiggerPockets has over 60,000 members who use the community to gain industry knowledge, for networking, and real estate deal-making.
# # #