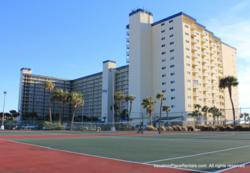 Regency Towers Resort Condominiums Under New Management by Vacation Place Rentals
Panama City Beach, Florida (PRWEB) April 22, 2013
Regency Towers announces that the experienced team of professionals at Vacation Place Rentals have taken over management of this top-rated Panama City Beach condo property on the Gulf of Mexico.
In an effort to increase the level of service at the resort, Regency Towers owners sought a company with a proven track record in marketing and managing Panama City Beach condos. VPR became the clear choice because of its unique approach that includes high-level expertise in information technology, marketing and improved service standards.
"We're honored that Vacation Place Rentals was chosen to take on the responsibility of ensuring that every guest has the best vacation possible here at Regency Towers resort," said Nathan Tice, Chief Operations Officer. "Our goal is to provide visitors with outstanding service, spotless vacation condos and a memorable stay in Panama City Beach."
Regency Towers has long been known as a premier Panama City Beach condo property offering affordable and family-friendly vacation rentals at a prime Gulf-front location on the quiet eastern end of Thomas Drive. As the new management team, VPR will be responsible for maintaining that reputation through outstanding marketing and onsite supervision.
In just a short time since taking over, VPR already has raised standards and increased training for customer service staff, from the front desk to housekeeping, and has started overseeing upgrades to the Panama City Beach condos, as well as to the many amenities on the property.
VPR also will responsible for onsite Panama City Beach condo rentals. This ensures that guests will interact with the same management team through the entire seamless process from booking all the way through to departure. It also provides peace of mind for owners, who know that their property is being well cared-for by a capable staff.
About Regency Towers: Regency Towers is a full resort property offering year-round 1, 2, 3 and 4-bedroom Panama City Beach condos. The resorts sits on 540 feet of beachfront and provides spectacular Gulf views from many of its spacious vacation condos.
Each Panama City Beach condo at Regency Towers is completely and comfortably furnished and includes a fully equipped kitchen, along with washer and dryer units. The condos also have big-screen televisions and free cable and Internet service.
A "true resort," Regency Towers has some of the best amenities available in PCB, including two Olympic-sized swimming pools, tennis courts, an indoor spa, a game room and a conference center with state-of-the-art audio/visual equipment.
About Vacation Place Rentals: VPR is a property management company with nearly 20 years of combined experience in Panama City Beach condos. The team of marketing and management professionals focuses specifically on short-term vacation properties.
VPR has established a reputation as the leading Panama City Beach condo marketing team by leveraging multiple online platforms to reach a global market of potential visitors. By combining an expertise in vacation rental-related Internet technology with hands-on experience in guest services, the VPR team offers a unique approach that guarantees satisfaction and repeat bookings.
The company is locally owned and operated, and is active in both Panama City Beach condo rentals and the PCB social community.