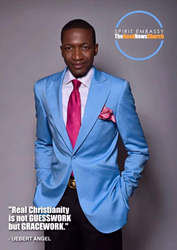 Poor people are good managers of their poverty and money does not go to nice people. The demon of poverty is more powerful than prayer and fasting combined, and that is why most prayer warriors who do not apply the rules to be rich are usually broke.
Houston, Texas (PRWEB) March 21, 2017
For so long, people have been wrongly taught that prophecy is for the time of old. However, a few years ago, it became apparent worldwide that God is still speaking today through some of the contemporary major prophets such as Prophet Uebert Angel (http://www.uebertangel.org) and Prophet Shepherd Bushiri (Major1). A review of the videos they posted on their Youtube accounts (https://www.youtube.com/user/propheticchannelTv ; https://www.youtube.com/user/SpiritEmbassy/videos), proved to many people that they are genuine prophets.
On March 10-11, 2017, Uebert Angel (https://www.facebook.com/ProphetUebertAngel) held a two day conference in Houston, Texas, to teach people unconventional secrets and wisdom to start and run a successful business. Hosted by Pastor Jeremiah Asomugha (http://www.jaministry.org), a spiritual son of Prophet Uebert Angel, this meeting attracted thousands of people from Canada, UK, Cameroon, Trinidad and Tobago, Kenya, Tanzania, Uganda, Ivory Coast, several states in the US, etc. The prophet did crazy miracles and prophecies. Several people were instantaneously healed from diseases (e.g. high blood pressure, diabetes, cancer, deafness, and kidney) just by passing under the shadow of the prophet. As the pioneer of the miracle money, Uebert Angel spoke the Word and many people received miracle money immediately and credit scores were raised. God located a conference attendee through the prophet who accurately prophesied to him and his wife with deep details including his date and place of birth, his distinction during his PhD graduation as Doctoral Marshall (first of his class of hundreds of doctorates) in the USA, the age of the pregnancy of his wife, the year he moved to the US where he now lives as a dual citizen, the name of his business, DiasporaEngager (World's #1 Global Diaspora Engagement Social Media Platform - https://www.DiasporaEngager.com) and how God has been talking to him about it, etc. The crowd was very shocked by the prophecies and some people were holding their head because they could not believe it. Many miracles described in the Bible have been performed by Uebert Angel and Shepherd Bushiri (Major 1) (http://www.shepherdbushiriministries.org). The accuracy and magnitude of their prophecies, deeds, and demonstration of the power of God are a true testimony of their unquestionable dominion and anointing.
The Biological Microphone of God, the Original Major, the father of Major One (https://www.facebook.com/shepherdbushiriministries) unapologetically believes that spoken Word of God can prosper believers. To teach others how to become a millionaire, he founded the "The Millionaire Academy" (https://www.themillionaireacademy.org). For this pioneer of the forensic and microscopic prophecy, "Poor people are good managers of their poverty. To become rich, one must learn to honor people and not insult money. Money measures value and for someone to have money, he or she must increase his or her value. The demon of poverty is more powerful than prayer and fasting combined; that is why most prayer warriors who do not apply the rules to be rich are usually broke." He exhorted the attendees to always honor God with their finances and to keep sowing seeds in good soils. The wisdom of this prolific author can be found in his bestselling books (http://www.uebertangel.org/books):

Become A Millionaire In Real Estate
Defeating The Demon Of Poverty
How To Hear The Voice of God
Praying For The Impossible
Supernatural Power Of The Believer
The Greatest Secret God Told Me About Money
The Prayer God Cannot Ignore
He is a pioneer of the contemporary Prophetic Movement that is backed up by undeniable miracles, healings, signs, wonders, accurate prophecies, and the revelation of Euagellion, The Good News of God's Grace.
He is the founder of:

Spirit Embassy The Good News Church, which has branches in all continents;
Miracle TV and the Good News TV (http://www.goodnewsworld.tv), which broadcast to millions of homes in Europe, Africa and Asia;
Osbourne Institute of Theology (https://www.osborninstitute.com), an accredited online school;
Sam Barkeley Construction (https://www.sambarkeley.com), a preconstruction planning, construction management, land and building acquisition company, which has been doing projects in Europe, Africa, and in the USA.
He is happily married to Prophetess Beverly "Bebe" Angel, and together, they have 4 sons. Through the Uebert Angel Foundation (https://www.theangelorganisation.com), they have been changing lives in some of the poorest communities. The mentor of Major1 (http://shepherdbushiriinvestments.com) is a very successful and international businessman who has more than 200 commercial and residential real estates across the globe. Some of his businesses are grouped under the parent company "The Angel Organization".
This climate change lobbyist has given motivational speeches in several African countries, USA, Canada, UK, the Caribbean, Australia, India, etc. He is one of the wealthiest ministers in the world and the second Zimbabwean in history to be featured in the prestigious Forbes Magazine, which described him as "one of those making multimillion dollar fortunes, these do not inherit riches, they make them on their own." The acquaintances of this UN Peace Ambassador include heads of state and other world leaders. He obtained two degrees in Finance (University of Salford, UK), a Masters' degree in Applied Philosophy (University of Wales, UK) and has received honors and awards including "The Most Influential Contemporary African Diaspora Leaders" honor in 2016 (http://africandiasporaleaders.com/uebertangel).