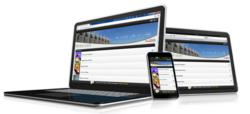 Our software provides detailed statistics and intelligent insights on the data collected.
Santa Monica, California (PRWEB UK) 11 December 2012
Available starting today, ProProfs Survey Maker is flexible and powerful, a great tool for individuals, businesses and organizations of any scale or size, to create and launch their own online surveys, for any purpose.
ProProfs Survey Maker supports a range of simple, yet comprehensive, features, that allow professionals or enterprises to instantly create different kinds of surveys such as customer feedback survey, market research survey, demographic survey, course evaluation survey, or any other survey.
Plus, ProProfs Survey Maker comes with a powerful free version, ideal for most educators, marketers and small businesses, who want to quickly create a survey for less than 50 people. With a small upgrade fee, larger enterprises can create unlimited surveys with additional reporting & security features.
"Our free survey software is simple and easy to use, and yet supports powerful features such as response grading, advanced reports and comprehensive range of question types, making it possible for anyone to create sophisticated surveys", said ProProfs CEO Sameer Bhatia. "Plus, our software provides detailed statistics and intelligent insights on the data collected".
ProProfs Survey Maker offers all users:
● Free and user friendly survey software with a vast array of features that allow anyone to create comprehensive surveys on all kinds of topics. The free version allows users to add different questions, custom messages & social media sharing options to their surveys. They can also create graded surveys or access detailed stats and reports. It's also a user friendly software, which allows users to create extensive surveys by simply dragging and dropping multiple questions types to their survey. This saves users a lot of time as they can insert various types of questions into their surveys in a matter of minutes. They can also easily edit, right there on the same page where they create the surveys, and effortlessly change or reorder questions to create surveys tailored to the needs of their respondents.
● The survey software provides detailed reports and stats for each and every survey that users create. It automatically analyses the data in their surveys and represents it in the form of charts and graphs, which they can instantly download into an excel spreadsheet for more detailed analysis. In addition to this, users can access detailed reports for each of their survey such as the numbers of respondents, the date and time when the survey was taken as well as the IP address of the computer from where the survey was taken. With the help of such statistics, users can accurately interpret the results of their survey and even share the report with other stakeholders.
● Grade survey responses. Users can allow respondents to assign unique points to the answers in their surveys or rate the answers on a scale of pre-determined points. The grading helps automatically qualify the responses and power various use cases around knowledge testing as well.
● Embed in your website or access surveys across platforms & devices. The software also allows users to share their survey in a number of ways. They can extract the embed code and post the survey to a website or their blog. They can send the link of the survey to their respondents via email or share it on their social networks. They can even encourage respondents to share their survey by customizing it to show social media sharing options at the end of the survey. ProProfs surveys work across platforms and devices such as smart phones, tablets, and PCs.
ProProfs Survey Maker is a welcome addition, for corporate professionals such as HR managers or individual educators, who have been using ProProfs Training Maker to create online courses. ProProfs products are used by millions of learners each month. Educators and HR professionals can now easily add surveys like teacher evaluations, course evaluations etc into courses or quizzes made using the ProProfs platform at the click of a button as the survey offering integrates with other ProProfs products.
To create an online survey for free, please visit: http://www.proprofs.com/survey/
About ProProfs.com
ProProfs (http://www.ProProfs.com) is the leading provider of comprehensive online tools for building, testing and applying knowledge. Through its Quiz Maker, Survey Maker and Training Maker products, ProProfs offers trainers and educators powerfully-simple features without requiring users to download or learn expensive software. With the largest library of professional quizzes and assessment tools on the Web, as well as a powerful tracking and measurement dashboard, ProProfs empowers users with a valuable feedback engine to apply knowledge, helping them increase productivity, efficiency and profitability. ProProfs is a privately-held company based in Santa Monica, Calif.