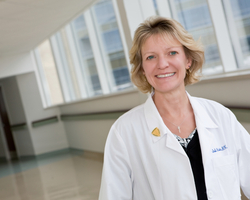 It's no wonder they're concerned, since prostate cancer is more common in men than breast cancer is in women,
Arlington Heights, Ill. (PRWEB) September 1, 2009
Juli Aistars, RN, APN, knows very well that men with prostate cancer have all kinds of concerns.
"It's no wonder they're concerned, since prostate cancer is more common in men than breast cancer is in women, " said Aistars, prostate nurse navigator for the Prostate Program at Northwest Community Hospital in Arlington Heights. "It's the most common cancer, aside from skin cancer, in American men."
But their anxieties aside, research has shown that men with prostate cancer often choose not to talk about their disease, even with spouses, and are uncomfortable needing emotional support. "That's one reason why NCH created the prostate nurse navigator role," Aistars said. "I'm here to encourage patients to express their concerns."
Joel Stern of Kildeer, Ill., was 49 when he learned he had prostate cancer. "I met Juli after my decision to have a prostatectomy," Stern said. "I had discussions with her on a number of sensitive topics about my life post-surgery. She clearly knew her data, but she also has a delivery style that gave me comfort and faith. While I knew this was her job, it felt like something more to me. It made me feel like I really mattered."
Seeing men for consultation is only part of Aistar's job. She assists in scheduling tests and appointments, helps patients manage financial issues, explains treatment options, and finds referrals and second opinions. "I'm part of a multidisciplinary team of physicians, urologists, radiation oncologists and nurses," Aistars said.
NCH offers the most advanced treatments for prostate cancer, including the da Vinci® robotic surgical system, CyberKnife® radiosurgery, intensity modulated radiation therapy, Brachytherapy and Cryotherapy.
In her role, Aistars has heard much from men with prostate cancer. One patient, a competitive skier in his 70s, was opting to forgo treatment for his cancer, considering only monitoring his condition. He was worried about urinary incontinence, which is common in men who have surgery or radiation for prostate cancer.
"He feared he might have to spend the rest of his life wearing a tight ski suit over a diaper," Aistars said. "We talked through his concerns. He ultimately opted for treatment, and in one season was back on the slopes."
Aistars said the most common concerns among men include:

The emotional impact of learning one has cancer
The fear of side effects, like erectile dysfunction and incontinence
Managing family anxieties
Recovery duration, and how long it takes to get back to regular activities
General reluctance to express feelings
"I'm surprised and happy that men are willing to discuss personal issues with me," Aistars said. "When I began, I was ready for the stereotype of 'men don't talk about it.' But I'm finding this often does not hold true."
More details on prostate cancer treatments can be found on the hospital's website at nch.org/prostate.
###