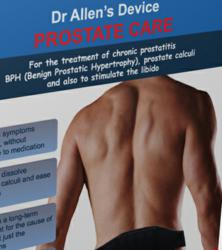 Dr. Allen's devices improve the condition of the heart muscle and prostate tissue by increasing blood circulation in the organs locally.
London, UK (PRWEB) June 12, 2012
Fine Treatment is to feature on CNBC in 21st Century Health TV series addressing the benefits of the new Thermobalancing Therapy for people with coronary heart disease and prostate conditions. The way how Dr. Allen's therapeutic devices assist in recovery after a heart attack as well as in reversing prostate enlargement and easing prostatitis will be discussed. It is important that this natural therapy helps to improve the conditions of internal organs, including heart and prostate, without resorting to medications and surgeries.
Dr. Simon Allen's research findings, summed up in The Origin of Diseases, conclude: while chronic diseases of different organs vary, they have the same root. This discovery has helped to create the Thermobalancing Therapy for the treatment of various chronic diseases at the capillary level. You can watch a video where Dr. Simon Allen and Ariana Adjani discuss the benefits of Dr Allen's therapeutic devices: http://www.youtube.com/watch?v=EvlrxBz790A.
According to the National Institutes of Health (NIH), heart surgeries cost more than $30,000 but they don't help in the long term. For instance, the Latest Morbidity and Mortality Statistics on Bypass Surgery and Angioplasty states, the mortality rate after angioplasty varies from 2.1% to 7.8% in 30 days and 5.2% to 17.3% in the 1st year; the mortality after bypass surgery is 4.3% to 10.6% in 30 days, and 8.0% to 19.5% in 1 year. Moreover, in the case of bypass surgery, 10-20% do not get effective relief, while patients who receive angioplasty have a return of their symptoms in 40-50%.
Regarding prostate conditions, medical experts from Urologix, Inc. Minneapolis report: "BPH drugs may need to be taken once or twice a day for the rest of men life. Over time, the cost can become a large expense and drugs are not effective for all patients."
Unlike medications and surgeries, Dr. Allen's therapeutic devices relieve the symptoms of chronic heart and prostate diseases naturally reducing the need for additional medications and surgeries. Specially designed, Dr. Allen's Device for Heart Treatment is comfortable to wear and does not affect the day-to-day activities of its users. Read more about BPH treatment at http://www.finetreatment.co.uk/prostatetreatmentbph/prostatitistreatment.html.
"The new Thermobalancing Therapy is an optimal choice as it treats heart and prostate without any side effects," says Dr. Simon Allen. "Dr. Allen's devices improve the condition of the heart muscle and prostate tissue by increasing blood circulation in the organs locally."
About Dr. Simon Allen and Fine Treatment:
Dr. Simon Allen is a highly experienced medical professional. His specialty is in the cardio-vascular field, and he has treated patients with a wide range of health disorders, including coronary heart disease, joints, kidneys and prostate conditions. Fine Treatment produces and distributes Dr Allen's devices for chronic prostatitis and BPH treatment, coronary heart disease, for dissolving kidney stones, back pain and sciatica relief.