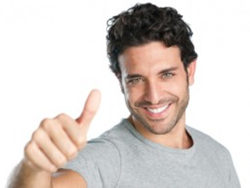 Dr. Allen's therapeutic device reduces BPH symptoms gradually, helping men to feel better and increasing sexual desire without extra testosterone and its side effects.
London, UK (PRWEB) March 14, 2013
In Australia, where testosterone prescriptions are climbing, the demand is spurred by what David Handelsman, a Professor of Medicine at the University of Sydney, describes as an "anti-ageing racket" targeting gullible men, and urges that its use is not safe. Addressing a valid question as to which BPH treatment is safe, Fine Treatment recommends Dr. Allen's Device for Prostate Care, which is completely side-effects-free and helps men to improve the condition of the prostate naturally increasing male sex drive.
"Men think testosterone is the essence of manhood and it will prolong their youthful vigor forever," said Handelsman, whose research focuses on male reproductive health. "They're persuaded because sex sells and anything to do with sex and reproduction is easy to market."
The article provides statistics showing that 5 million American men don't produce enough of the hormone, according to the National Institutes of Health. A study in Europe published a decade ago found one in five men over 50 had moderate-to-severe symptoms of testosterone deficiency.
A relatively low testosterone level induces various symptoms that may also be related to the "normal" ageing process. Sleep disorders, appearance with higher fat deposits, lower muscle strength are commonly attributed to lower testosterone levels. The most typical symptoms are, however, related to impairment in sexual activity with difficulties in obtaining and/or maintaining erection (erectile dysfunction) and especially lower sex drive, says Dr. G. Lalande, in 'Addressing Male Hormonal Changes' of February 5, 2013.
A study of testosterone use in elderly males, funded by the US National Institute on Ageing and run by Shalender Bhasin at Boston Medical Center, was stopped in 2009 because an audit found it caused more heart attacks and hypertension. "People who use it at very high doses can become manic and can fly off the handle and become dangerous," Handelsman said. Testosterone does pose potential health risks. In men, high levels can cause symptoms such as acne, aggression, impotence, liver dysfunction, testicular atrophy and sperm reduction, breast enlargement and baldness.
The unique prostate treatment with Dr. Allen's Device improves the blood circulation in the affected prostate gland that reduces the prostate size easing BPH symptoms and increasing male sex drive. Contrary to testosterone therapy, the device helps without complications. This video testimonial http://www.youtube.com/watch?v=V5xidswhxJM discusses how a man with a hugely enlarged prostate has shrunk it exclusively by wearing Dr. Allen's Device.
"It is important that, at any age, men are protected from common complications occurring as a result of risky treatments for enlarged prostate and sexual dysfunction," says Dr. Simon Allen. "Dr. Allen's therapeutic device reduces BPH symptoms gradually, helping men to feel better and increasing sexual desire without extra testosterone and its side effects."
For details, visit Fine Treatment at http://finetreatment.com/bph-treatment-prostate-enlargement.
About Dr. Simon Allen and Fine Treatment:
Dr. Simon Allen is a highly experienced medical professional. His specialty is in the internal medicine. He has treated a wide range of chronic diseases, including patients after a heart attack, with kidneys problems, including kidney stones disease, prostate and spine conditions, as well as metabolic disorders. Fine Treatment exclusively offers Dr. Allen's Devices for chronic prostatitis and BPH treatment, coronary heart disease, dissolving kidney stones, as well as back pain and sciatica relief.