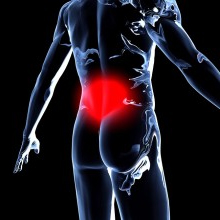 Dr. Allen's therapeutic device is designed to treat the prostate gland at home, and is the most effective treatment for BPH and chronic prostatitis.
London, UK (PRWEB) March 12, 2013
"Conventional medicine concentrates on the symptoms and treats them aggressively, which weakens the body," says a new book, 'Healthy Prostate'. Thus Fine Treatment is not alone in trying to raise the awareness of the aggressive nature of most prostate treatment options, such as long-term antibiotics for chronic prostatitis, BPH medications and surgeries. In contrast, the results of wearing Dr. Allen's Device for Prostate Care show that a full recovery from a prostate problem can be expected in cases of both chronic prostatitis and BPH.
"If modern treatments had no serious side effects, I would have lined up to get them. Unfortunately they do, in as many as 70% of men who undergo conventional treatments. Men just don't want to discuss problems of impotence or incontinence with anyone, especially when it is too late to do anything about them," says Ronald Bazar. "Do not believe doctors who downplay the side effects of slicing and dicing, radiating, or poisoning the body—there is another way."
Contrary to typical conventional treatment options, Dr. Allen's therapeutic device helps to recover from inflammation and to reduce the size of the prostate without any side effects. The device works all the time, while it is worn as a soft belt just below the waistline, creating an ideal environment for blood to pass through capillaries in the affected prostate tissue. The improved blood circulation cleanses the prostate and over time allows the body to repair itself through its own restorative mechanisms. Here is a short video interview with David, 67, from London, who has reduced his hugely enlarged prostate from 130 grams to 37 grams exclusively with Dr. Allen's Device: http://www.youtube.com/watch?v=V5xidswhxJM.
Those men who have opted for prostate removal procedures usually face new health problems. Shocking experiences are shared by many men on the Men's-Health Forum on Retrograde Ejaculation after a prostate surgery: "Do not get laser prostate surgery – if you still enjoy having sex, you will not afterwards – they don't tell you everything!" dated 06/25/2011. Another post dated 10/2/2011 says: "I'm 44 male, 8 months ago I had Holap operation for BPH and still now I'm living a nightmare. Do not touch your prostate. The annoying symptoms you have now are nothing compared to what you have after surgery."
"The book on 'Healthy Prostate' raises awareness of the aggressive nature of conventional prostate treatment options. Addressing the issues, Thermobalancing therapy helps men to avoid adverse side effects by treating BPH and chronic prostatitis naturally," says Dr. Simon Allen. "Dr. Allen's therapeutic device is designed to treat the prostate gland at home, and is the most effective treatment for BPH and chronic prostatitis."
For details, visit Fine Treatment at http://finetreatment.com/bph-treatment-prostate-enlargement.
About Dr. Simon Allen and Fine Treatment:
Dr. Simon Allen is a highly experienced medical professional. His specialty is in the internal medicine and cardio-vascular field. He has treated a wide range of chronic diseases, including patients after a heart attack, with kidneys problems, including kidney stones disease, prostate and spine conditions, as well as metabolic disorders. Fine Treatment exclusively offers Dr. Allen's Devices for chronic prostatitis and BPH treatment, coronary heart disease, dissolving kidney stones, as well as back pain and sciatica relief.