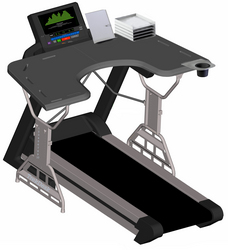 supplements don't substitute for a healthy diet and some studies have shown that they may actually increase the risk of cancer.
Phoenix, AZ (Vocus) December 10, 2008
On the heels of announcements two weeks ago that vitamin supplements A thru E were found ineffective in preventing various forms of cancers come two more medical announcements with the same conclusions regarding prostate cancer. While supplementation strategies have been shown conclusively to fail in this regard long standing studies have proven that a regimen of daily walking is effective in lowering the risk of prostate cancer.
The National Cancer Institute states that regular walking will reduce the risk of prostate cancer by 10% to 30% and that sedentary lifestyles greatly increase the risk of developing this disease. Obese men are much more likely to die from from prostate cancer further indicating the importance of exercise and weight management. With more than 50% of the adult male population bound to desk jobs that prevent adequate daily exercise the challenge is finding a means of invoking exercise into the work day. Treadmill desks offer a solution that merits serious consideration.
Treadmill desks allow employees to walk at slow speeds (without sweating) and perform all of the tasks they complete at a regular desk. Some of the benefits of walking during the day on a treadmill desk include:

increased levels of energy
increased levels of productivity and concentration
improvements in overall mood
increased cognitive function
weight loss
disease prevention
A comprehensive list of the benefits of using a treadmill desk is available from TrekDesk, a treadmill desk manufacturer, at http://www.trekdesk.com .
The 12 year study out of the University of Texas involved 50,000 men analyzing the benefits of Selenium and Vitamins E supplementation was halted prematurely when it was discovered that they offered absolutely no benefit to prostate cancer prevention. Additionally, a study by Harvard scientists following 14,641 doctors aged 50 and over proved ineffective when testing the effects of Vitamin C and E on prostate cancer prevention.
Not only were supplements shown as an ineffective substitute for a healthy diet but there is a risk they may have a detrimental effect on the body according to Dr. Jodie Moffat from the Cancer Research Center UK, "supplements don't substitute for a healthy diet and some studies have shown that they may actually increase the risk of cancer."
Walking has also been shown previously to have a statistically significant impact on the prevention of colon, prostate and breast cancers along with a multitude of other major diseases. It appears that Hippocrates was right, walking truly is man's best medicine.
CONTACT:
Steve Bordley
TrekDesk
Ph: 877-449-8588
FAX: 877-449-8588
info @ trekdesk.com
http://www.trekdesk.com
###