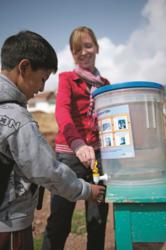 The Healthy Homes projects changed my perspective on what serving abroad really means. Working with locals to empower them to enact healthy changes in their lives showed me what service learning is all about. - Nicole Ellis, a ProWorld volunteer
San Francisco, CA (PRWEB) March 22, 2013
ProWorld, a social enterprise that offers volunteer, internship, and study abroad opportunities for individuals and custom groups in developing countries, is proud to announce the expansion of its Healthy Homes volunteer abroad project. Healthy Homes is a long-term volunteer project created by ProWorld that incorporates 10 – 13 different low-technology methods that help improve overall wellness of rural families in partner communities around Urubamba, Peru. The Healthy Homes project was launched in 2010 in the village of Ocorurru, and was recently expanded to a second village, Tambococha. ProWorld and its volunteers now work with 40 families in each village.
"Volunteers who participate in the Healthy Homes project become educated on long-term community development and a variety of sustainable technologies that help to solve basic health problems in rural Andean communities," said John Mundy, global projects manager for ProWorld. "The work they do – from constructing ecological refrigerators and cleaner-burning stoves to illustrating the benefits of hand washing and proper sewage disposal – helps the individual family learn how to maintain a healthy home which results in better overall health, a reduction in medical bills, and general improvement in quality of life."
In Peru, roughly eight million people live in poor rural areas. An average family includes four or more members per household who often live and sleep together in one room huts with their livestock (predominantly chickens or guinea pigs), which they use for food and additional income. Rural homes lack running water, basic sanitation, and are poorly ventilated. Perishable food is left out in the open where it can go bad or become infested with flies. Easily avoidable respiratory, skin, and gastrointestinal problems are common, and are often left untreated.
ProWorld's Healthy Homes volunteer abroad project helps improve the health and well-being of individual families by providing access to clean water, reducing the burden of smoke-related diseases, minimizing wood consumption and deforestation, increasing sanitation, and improving access to nutritious food. The Healthy Homes project implements multiple basic home improvements in one village for 12-18 months. An extensive planning process takes place with each Healthy Homes family before ProWorld implements any of the project components, creating a sustainable relationship between volunteers and the community.
"The long-term commitment that ProWorld provides to the communities involved with the Healthy Homes project is key to affecting change," said John Mundy, global project manager for ProWorld. "Whether a volunteer spends two weeks or two months working on a project, the long-term effects are cumulative and sustainable due to the extensive preparation that takes place in each community. The community welcomes the volunteers and becomes accustomed to them being there, as each visit provides another bite-sized chunk of needed technology that improves their day-to-day life."
ProWorld volunteers work on a variety of projects within the Healthy Homes project including:

Installing cleaner burning stoves – eliminates smoke from the kitchen
Distributing ceramic water filters – ensures clean water for the family
Building guinea pig hutches – provides higher return on breeding of guinea pigs for income
Creating ecological refrigerators - stores food more hygienically so it lasts longer
Building livestock sheds and improved patios – helps with increased sanitation
Assisting with organic gardens – provides improved nutrition to family
Developing community composting – supports sustainable agriculture practices
"The Healthy Homes projects changed my perspective on what serving abroad really means," said Nicole Ellis, a ProWorld volunteer in Peru. "Working hand-in-hand with locals to empower them to enact healthy changes in their lives showed me what service learning is all about. Engaging in the projects allowed me to better understand the cultures and values of Peru as well as what my strengths and weaknesses are as an individual."
ProWorld's Healthy Homes project runs year-round and is available to interested individuals or custom groups. More information about volunteering abroad in Peru can be found here.
ProWorld's mission is to empower communities, promote social and economic development, conserve the environment, and cultivate educated, compassionate global citizens. ProWorld was started twelve years ago with the vision of creating sustainable change by working closely and collaboratively with local communities to connect them with global volunteers.
ProWorld volunteer abroad opportunities focus on important global issues: health, environment and social/economic development. To date, ProWorld volunteers have logged more than 800,000 hours of volunteer service and injected more than $7 million of needed capital into local economies.
About ProWorld
ProWorld (http://www.proworldvolunteers.org) facilitates volunteer, internship, and study abroad opportunities for individuals and custom groups with community projects in developing countries in Africa, Asia and Latin America. In 2009 National Geographic Adventure magazine listed ProWorld as one of its "Best Adventure Travel Companies on Earth." ProWorld is a division of Intrax, a family of organizations that provide a lifetime of high quality educational, work and volunteer programs that connect people and cultures. Intrax is headquartered in San Francisco, California, with offices on four continents.