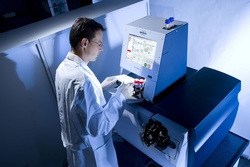 Combining our range of proteomics MS products with the novel nanoLC system from Proxeon takes proteomics analysis to a new level in terms of performance, reliability and ease-of-use, answering the increasing demand for integrated solutions
ODENSE, Denmark & BREMEN, Germany (PRWEB) November 14, 2007
"Combining our range of proteomics MS products with the novel nanoLC system from Proxeon takes proteomics analysis to a new level in terms of performance, reliability and ease-of-use, answering the increasing demand for integrated solutions," said Dr. Alexander Harder; Director of Product Management of Bruker Daltonik.
EASY-nLC is a fully integrated, split-free nanoscale LC system, optimized for use with mass spectrometry and in particular LC-MS applications in proteomics. The product is already in use in prestigious proteomics laboratories and will also continue to be sold through the Proxeon sales team. Bruker Daltonics offers a well-established range of mass spectrometry systems and solutions that are widely used in proteomics research, including their HCTultra(TM) ion trap, micrOTOF-Q(TM), and apex ultra(TM) instrument series. The Easy-nLC and MS systems are already completely integrated via Bruker Compass(TM) software, offering significant convenience and productivity advantages for proteomics researchers. The combined system will be sold by Bruker Daltonik through their sales and marketing organization.
"Bruker Daltonics is one of the world leading MS proteomics companies. This OEM agreement is an excellent opportunity to reach out and offer our outstanding product to a larger group of researchers," explained Marten Winge, CEO of Proxeon.
No financial terms of the agreement are disclosed.
About Proxeon
Proxeon is an established provider of innovative products focused towards the proteomics market. Taking advantage of core internal competencies, Proxeon develops products and solutions that fulfill the need to enhance performance, solve technical challenges, and thereby accelerate the proteomics workflow, from sample preparation through to data interpretation.
In the field of mass spectrometry, Proxeon nano ES ion sources are used in over 700 laboratories, and the company is one of the world's largest suppliers of nano ES emitters. More recently, Proxeon added EASY-nLC, a system for high performance nanoscale chromatography, and ProteinCenter(TM), software for easier data interpretation, to its commercial portfolio.
The company's products are used in leading academic and industrial research laboratories throughout the world. Established in 2002, Proxeon is headquartered in Odense, Denmark and has sales operations in the USA and Europe.
For more information, visit: http://www.proxeon.com or contact:
Marten Winge, M.Sc., CEO, Proxeon A/S
E-mail: winge@proxeon.com
Tel.: +45 2633 2020
Fax.: +45 6557 2301
ABOUT BRUKER DALTONICS
Bruker Daltonics is a leading developer and provider of innovative life science tools based on mass spectrometry. For more information, please visit http://www.bdal.com
EASY-nLC and ProteinCenter are trademarks of Proxeon.
HCTultra, micrOTOF-Q, apex ultra, and Compass are trademarks of Bruker Daltonik.