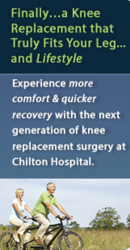 Just days after my Zimmer® PSI knee replacement, the implant rehab therapists were amazed at my progress. Kayal Orthopaedic Center's PSI knee results have been amazing. (Patient Testimonial)
Franklin Lakes, NJ (PRWEB) June 27, 2013
Specializing in partial and total joint surgery, Dr. Robert A. Kayal is the regional pioneer of yet another cutting-edge advancement in knee replacement surgery: Zimmer's® Patient Specific Instrumented (PSI) computer-assisted navigation technology using Zimmer's® most advanced Persona® knee replacement implants.
PSI is the next generation in high-fidelity knee replacement. This new technology allows the joint to be custom-fitted to the patient's anatomy, which speeds rehabilitation and optimizes surgical outcomes.
PSI begins with painless MRI imaging and pre-operative planning tools that result in a 3-dimensional model of the knee joint. Accurately depicting the unique properties of your knee, the model becomes a precise surgical tool that guides bone cutting, joint alignment, pin insertion and custom instrumentation. Essentially, PSI technology allows surgeons to perform a virtual knee replacement in advance of your surgery—and replace your damaged joint with a new knee designed specifically for your body and lifestyle!
A regional pioneer of this progressive implant procedure, Dr. Kayal performs PSI surgery exclusively at Chilton Hospital in Morris County, New Jersey. Paired with proven, minimally invasive surgical techniques, PSI offers a number of benefits over traditional knee replacement surgery.
Kayal Orthopaedic Center's MRI-based knee replacement advantages include:
Alignment accuracy: PSI improves knee implant fit and maximizes joint stability.
Minimal invasiveness: PSI knee replacement involves less bone cutting than traditional knee replacement surgery.
Expedited surgery: Pre-planning helps to reduce time in surgery and can hasten post-surgical recovery.
True customization: A tailor-made knee joint that is patient specific!
About Kayal Orthopaedic Center:
Convenient locations in Ridgewood and Franklin Lakes, New Jersey.
The NJ orthopedic surgeons at Kayal Orthopaedic Center, PC are regional pioneers in minimally invasive orthopedic surgery, sports medicine & arthroscopy, partial & total joint replacement surgery, platelet rich plasma injection therapy (PRP), hip arthroscopy, foot & ankle reconstruction, and spinal disorders.
Ridgewood, NJ Office
385 South Maple Avenue
Suite 206
Ridgewood, NJ 07450
Phone: 201-447-3880
Franklin Lakes, NJ Office
784 Franklin Avenue
Suite 250
Franklin Lakes, NJ 07417
Phone: 201-560-0711
Fax: 201-560-0712