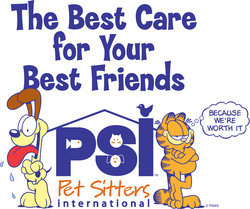 I try to offer my clients advice on more appropriate amounts to feed their pets and remind them of the health risks that come with pet obesity
King, NC (Vocus) November 29, 2010
Pet Sitters International (PSI), the world's largest educational association for professional pet sitters, recently surveyed its member businesses to determine the most popular types of pet pampering taking place during the holidays.
The majority of the 337 respondents indicated that their clients' pet pampering takes place primarily in the form of extra treats and toys. But the feedback doesn't stop there. Professional pet-care givers are quick to note that over-treating and over-feeding is typical among many pet owners.
An overwhelming 93 percent of respondents said they provide pet-sitting services for pets that they classify as overweight.
The findings are in line with 2010 information from the Association for Pet Obesity Prevention, which reports that 44 percent of dogs and 57 percent of cats in the U.S. are obese.
While most pet owners pamper their pets with good intentions, some of these behaviors can have long-term negative effects.
PSI member Cheryl Wilson, owner of T.L.K. Professional Pet Care Service in Watertown, MA, finds that over-feeding is one of the most common problems she encounters.
"I try to offer my clients advice on more appropriate amounts to feed their pets and remind them of the health risks that come with pet obesity," Wilson said.
Other PSI members noted that pet owners request that their pets be given too many fatty treats. Cari Brown, owner of The Cat's Meow Pet Sitting Service in Maryland Heights, MO, was asked to do just that—until she intervened.
"One of my clients used to give unhealthy snacks to their cats until I educated them on proper nutrition for cats," Brown said. "Now the cats get grain- and corn-free snacks that are full of protein."
PSI member Lynn Hall, owner of All Creatures Great and Small in New Point, VA, faced a similar predicament.
"I cared for a dog that was morbidly obese and yet my client continued to request that I feed it a high calorie, rich meal," Hall said. "I eventually lost the client because I expressed my concerns. The dog is now on medication and a low-calorie diet. As much as I miss that pup, I feel that I did the right thing to help save its life."
According to Patti Moran, PSI president, overindulging during the holidays and beyond is no longer solely a human issue, but one for canines and felines as well. She said that experienced and qualified pet care givers are in a good position to take note and intervene.
"Professional pet sitters spend a lot of time with pets and pet owners, likely more than any other pet-care professional," Moran said. "Their familiarity with their clients' pets and families make them well-suited to offer pet-care advice on good nutrition and similar topics. As PSI's survey indicates, professional pet sitters truly care about the welfare of the pets in their care."
The majority of professional pet sitters can quickly identify health issues and household hazards. Some of the most frequent recommendations professional pet sitters give their clients, especially around holidays, include:

Curb the urge to give extra "treats" to your pets. Instead, treat them with extra playtime and belly rubs.
Avoid giving overweight pets too much food and the wrong types of foods. Just because you're eating it doesn't mean your pet should.
Educate yourself about holiday hazards such as toxins in decorations and plants.
If you are going to be away for long periods of time for shopping and traveling, make arrangements to keep your pet on its regular schedule as much as possible.
Plan for your pet's care well in advance. Schedules get tight and last minute requests can leave pet owners without adequate in-home pet care.
For more information on holiday safety or to locate a professional pet sitter in your area, please visit http://www.petsit.com.
About Pet Sitters International
Established in 1994, Pet Sitters International (PSI) is the world's largest educational association for professional pet sitters, representing more than 7,500 independent professional pet-sitting businesses in the United States, Canada and abroad. PSI provides members with access to affordable bonding and liability insurance and educational resources including a comprehensive Accreditation Program, The Pet Sitter's WORLD magazine and PSI's annual Quest convention. For more information, visit http://www.petsit.com, home of the Official Pet Sitter Locator™, or visit the PSIStoreOnline, the largest specialty retailer of products for pet sitters and pet-sitter business owners.
Contact: Courtney Klein
Phone: (336) 983-9222, ext. 317
E-mail: courtneyklein(at)petsit(dot)com
Web site: http://www.petsit.com
Contact: Terry Chance
Phone: (336) 983-9222, ext. 314
E-mail: terrychance(at)petsit(dot)com
###