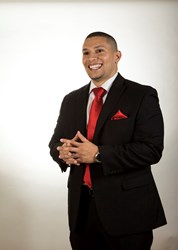 "Our goal is to partner with our clients and become the go to speaker's bureau for all their future needs."
Miami, FL (PRWEB) March 05, 2013
South Florida has a new way to link speakers and event organizers. The Miami Public Speakers Bureau started one year ago to help event organizers and businesses find speakers knowledgeable in various subjects such as motivational speaking, business topics, and social media strategies. It also helped public speakers find events, conferences, and seminars that were looking for skilled orators with knowledge in specific subject areas. The bureau acts as an agent and middleman, helping companies like JK North America find experienced speakers like entrepreneur Luly B. Since last February, the bureau has grown from simply helping bring local speakers and businesses together to assisting major enterprises such as Oracle, GE, and Florida Blue Cross Blue Shield find speakers for their events.
Miami Public Speakers Bureau President and Founder Jeff Zelaya uses his large online and offline network to help these two groups connect. It's a network that has helped him achieve the honor of LinkedIn's most recommended person under 30. As a result, Mr. Zelaya has been successful in helping speakers find venues that take full advantage of each speaker's unique skills – a valuable asset that people like Nina Neuscuetz, Director of Marketing for JK North America, have come to appreciate.
"We organize trade shows around the country and work with several organizations to help us find speakers for our events. Our experience with Miami Public Speakers has been fantastic and we value the smooth and efficient communication Jeff provides. He took the time to listen to our requirements and recommended Luly B. as a speaker for us. Luly turned out to be a perfect fit that connected with our audience in ways only few presenters have before."
But it isn't just venues that appreciate Jeff's ability to find great speakers. Speakers like David Suarez have come to respect and value Miami Public Speakers Bureau's ability to find the right venues for each person's particular knowledge and skills. "Working with Miami Public Speakers has been wonderful! Leading an extremely interactive keynote for Liberty Power was the first of many projects with Jeff and his team. The session itself was a fun challenge. We got a captive audience to engage and participate while acquiring new skills by combining compelling content with interactive role-play and transformational storytelling," says Mr. Suarez.
Jeff is hopeful that the bureau will continue to grow and help connect speakers with the venues and companies that need it most. "Miami Speakers Bureau has grown exponentially in just one year. We expect this growth to continue as word-of-mouth buzz about the success our speakers and organizations experience continues to spread," he believes.
He partly attributes the success of the bureau to the process of screening and vetting speakers. "There are interviews that take place before someone is accepted into speaker's bureau. We make sure that all speakers that apply to become bureau-certified are vetted and meet certain expectations and criteria." The other attribute is the attention paid to the needs of organizers and corporations. "We provide unbiased recommendations and put the client's needs and goals first. We also ensure that organizations that book their speaker through the bureau save money because speakers' accept pre-negotiated rates that are often lower then booking the speaker directly in exchange for a greater volume of event exposure and attendance."
When asked about the goals for the bureau, Mr. Zelaya drives right to the point – "Our goal is to partner with our clients and become the go to speaker's bureau for all their future needs."
About Miami Public Speakers Bureau - Miami Public speakers is a speakers bureau that represents local, national and global speakers. Our mission as a speaker's bureau is to help you find the public speaker that best meets your needs. Miami Public Speakers is endorsed by Florida Public Speaking and has built a reputation of delivering speakers that are huge hits at events. Contact us at 305.766.2631 or find us online at http://www.miamipublicspeakers.com.
---