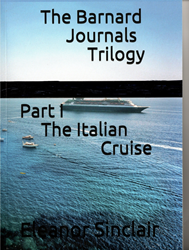 True stories well written are hard to find.
LAS VEGAS (PRWEB) June 23, 2020
After George refuses at the last minute to go with her on their planned tour of Europe, Ellie decides to go by herself, since it is too late to get anyone to travel with her. She takes a two week cruise of the Mediterranean to visit Italy, Greece and Turkey and has a passionate onboard affair. Due to an outbreak of cholera at a nearby port, she worries about getting quarantined onboard.
"Then there is the problem of the husband who wants me to meet him in Barcelona. That was the last I heard from him. If there's no letter at the dock, I'll have to call him and I have very mixed feelings about him coming to Europe. It has been good to know I can travel the whole summer and each new place has meant conquering the fear of travelling alone. So much for tomorrow, for tonight I am going to sleep with Armando."
Part II - "The Paris Journals"
The author moved to Paris in the mid 1970's and lived there for two years as an expatriate. She met David Hockney at the time of his first retrospective at Louvre which launched his international career. She went to the opening and all the parties given for the whole week. She also became friends with Jacques de Bascher, Karl Lagerfeld's assistant. She worked as a photographer and met Francois Truffaut at his office, doing the photographs for a Japanese journalist for his interview articles. The journals depict the many ups and downs of her out of control life style before she finally returned to the United States.
"As we skirted around the enormous gaping wound in the ground, the head of a crane stood silhouetted like a vulture against the rooftops of Rene Claire's Paris." This was to become the Pompidou Center in the middle of Les Halles.
Eleanor Sinclair lived these adventures and "The Barnard Journals Trilogy Part I and Part II are the first of many journals she kept. Part III is "Barnard College." She has lectured in psychology, worked as a photographer and as an art dealer. She is a graduate of Barnard College, Columbia University, New York, N.Y.