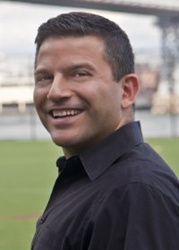 Publisher Avi Gvili named one of Staten Island's most powerful people
STATEN ISLAND, N.Y. (PRWEB) June 10, 2019
City & State's 2019 Staten Island Power 100 recognizes the elected officials and government staffers, business and nonprofit leaders, academics, advocates and activists who play influential roles in Staten Island's political and public life.
http://www.avigvili.com/ Avi Gvili, publisher and president of Boulevard Books, is named one of Staten Island's Power 100, a recognition of Staten Island's most powerful people. In his capacity as a publisher and an active member of Staten Island's civic life, Avi Gvili brings stakeholders together for the benefit of Staten Island.
"Staten Island is no longer the forgotten borough," said Gvili. "I am grateful for this recognition by City and State and glad to join many others in working to make Staten Island a great place to live, work and write books."
http://boulevardbooks.org/ Boulevard Books is an educational publishing company for the 21st century. Founded by educator and author Avi Gvili in 2010, it aims to bring to the public the voices of the new century by empowering authors with 100% of their royalties.