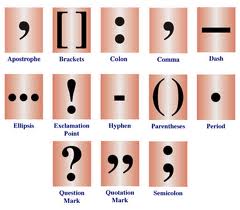 Punctuation counts in business. National Punctuation Day helps remind business people that they are often judged by how they present themselves in writing.
Pinole, CA (PRWEB) September 12, 2011
Calling all literary geniuses! This year's National Punctuation Day® Contest — the Punctuation Paragraph Contest — has already attracted entries from as far away as Malta. Writing a paragraph — maximum of three sentences using all 13 punctuation marks featured on the National Punctuation Day® website — is an appropriate way to celebrate the 8th annual National Punctuation Day on September 24, 2011. Contestants will compete for a box of punctuation goodies. Send your entries to Jeff(at)NationalPunctuationDay(dot)com by September 30 to be considered for prizes.
National Punctuation Day® — the holiday that encourages worldwide literacy — reminds America that a "semicolon is not a surgical procedure." NPD is celebrated in schools and businesses throughout the world with activities, games, programs, and contests. It has inspired people to pay attention not only to their p's and q's, but also their commas, semicolons, and ellipses. NPD reminds us of the importance of proper punctuation for communicating clearly at home, school, or at work.
Teachers throughout the United States are seizing the teaching opportunity presented by the unusual Saturday holiday celebration this year. Students are being sent on fact-finding missions through their communities — armed with their smart phones — to take photos of incorrectly punctuated store signs and billboards. Considering the pathetic understanding of the English language by businesspeople and retailers these days, how hard could this be? Students will prepare videos that will be posted on YouTube and used for teaching purposes for years to come.
Former newspaper reporter Jeff Rubin founded National Punctuation Day® in 2004 to draw attention to the importance of proper punctuation. "It's a day for librarians, educators, and parents – people who are interested in teaching and promoting good writing skills to their students and their children."
It's also a day to remind business people that they are often judged by how they present themselves.
"All professions depend on good writing skills," Jeff says. "When you're talking on the telephone, people form their opinion of you by your voice. In person, it's your appearance. With correspondence, people form their opinion of you based on your writing skills. If you can't spell and you can't string a few words together to make a literate sentence, your job advancement will be hindered, unless you're a professional athlete.
"It's sad to say, but writing skills, punctuation skills, communication skills in general, have just deteriorated over the years. You see it in newspapers, magazines and even books — misspelled words, words used incorrectly. It's extremely frustrating. I want National Punctuation Day® to bring this to the forefront of the American consciousness in a fun, silly way."
NPD has received worldwide media attention, with newspaper coverage from Manila to London, from Ghana to Toronto, and from Seoul to Seattle, in addition to broad radio and TV coverage in the United States — including a short segment on Regis and Kelly in 2008, a one-hour online chat on The Washington Post website in 2009, and segments on NPR, CBS, CNN, and The Osgood File with Charles Osgood in 2010.
NPD is recognized by Chase's Calendar of Events and listed in its sister publication, The Teacher's Calendar, two directories published by McGraw-Hill.
The NPD website — in addition to highlighting the latest in literacy news and featuring incorrectly punctuated signs from all over the world — serves as a resource that helps educators teach good writing skills and helps students understand the basics of punctuation. Teachers and business people worldwide use it as a reference guide.
The website features explanations of the proper usage of 13 punctuation marks, links to numerous grammar and writing resources, and a library of hundreds of photos of improperly punctuated signs and billboards sent by readers throughout the world. Be sure to check NPD's salute to the Tea Party!
There's even a punctuation newsletter, The Exclamation Point!, which contains articles on the latest literacy news from around the world, book reviews, and commentary.
HOW TO CELEBRATE NATIONAL PUNCTUATION DAY
Here's how you can participate in National Punctuation Day® on September 24:
1. Go to http://www.NationalPunctuationDay.com and become familiar with punctuation rules and issues.
2. Organize punctuation activities at your school, library, or office.
3. Share punctuation peeves with founder Jeff Rubin at Jeff(at)NationalPunctuationDay(dot)com.
4. Send photos of incorrectly punctuated signage to Jeff Rubin at Jeff(at)NationalPunctuationDay(dot)com.
To learn how schools and companies can participate in National Punctuation Day®, or to schedule an interview with Jeff Rubin, the Punctuation Man, visit http://www.NationalPunctuationDay.com, call Jeff at (877) 588-1212, or e-mail Jeff at Jeff(at)NationalPunctuationDay(dot)com.
###