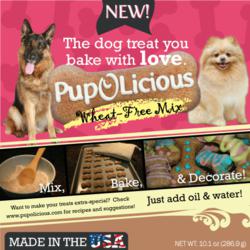 Many dogs suffer from gluten and wheat allergies, and as such are unable to tolerate the treats sold in pet and grocery stores
Quincy, IL (PRWEB) March 05, 2013
Dog owners in search of gluten and wheat free dog treats that their pet will love can now find just what they're looking for -- at a surprisingly affordable price -- when they shop at Pup-O-Licious' online store.
Pup-O-Licious' new wheat and gluten free dog treats are ideal for dogs with allergies or food sensitivities, and are made from only healthy, nutritious ingredients, including: flax seed meal, oat flour, sweet sorghum flour and Brewer's yeast.
"An allergy to gluten, which is also referred to as celiac disease, is common in dogs and can develop at anytime," commented Teresa Koch, Pup-O-Licious' CFO. "Symptoms typically include skin and bowel issues. An allergy to wheat is also common in dogs, and can be the result of eating any foods with a wheat base."
Unlike pet and grocery store dog treats that are made in a factory, Pup-o-Licious' homemade dog treats are baked at home. Plus, each package contains icing and a bone-shaped cookie cutter, which makes baking fun for the whole family. Depending on the cookie-cutter used, dog owners can bake 25-30 dog treats (using the 3" cookie cutter) or 35-40 dog treats (with the 1.5" cookie cutter).
"Many dogs suffer from gluten and wheat allergies, and as such are unable to tolerate the treats sold in pet and grocery stores," added Ms. Koch. "But our new gluten and wheat free dog treats are the solution! They're healthy, nutritious, and easy dog treats that are fun for the whole family to bake and decorate. And of course, dogs love the taste, so they're great for housebreaking and obedience training, too."
Dog owners, along with owners of pet stores, pet boutiques, and other pet-focused retailers can learn more about Pup-O-Licious' wheat and gluten free homemade dog treats at pupolicious.com.
About Pup-O-Licious
Pup-O-Licious makes healthy, fun and nutritious homemade dog treats – including a new line of gluten and wheat free dog treats -- which customers bake at home using easy-to-follow instructions that are included with every package. The Pup-O-Licious online store features the company's products, along with recipes, baking tips, FAQs, order tracking and more.