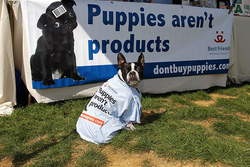 This video contest is one more step in Best Friends' ongoing efforts to end the exploitative breeding of dogs and to change the practices of the stores that sell the puppies
Los Angeles, CA (PRWEB) October 14, 2008
People from across the country have submitted videos aimed at getting out the truth about puppy stores, and why the U.S. should be puppy-store free. Today Best Friends Animal Society announced the three finalists.
Now it's time for the public to vote, but hurry, the deadline is Sunday, October 25, 2008.
Everyone is invited to go to A Puppy-Store-Free USA to help choose the winning video. The prize is a trip for two to Best Friends annual Lint Roller Party on Nov. 13 at the Hollywood Palladium. Emmylou Harris, country/bluegrass/folk music star, is scheduled to perform at Lint Roller.
Jon Dunn, Best Friends social marketing specialist, said, "We were inspired by the response to our invitation to create videos about the ills of puppy mills. These videos will educate the public that the 'cute little doggy in the window' for sale at pet stores probably came from a puppy mill.
"The videos ranged from the simple and poignant, to the very serious, to a humorous approach and they all show that while puppy stores may appear cute they hide an ugly truth. Almost all puppies sold in stores come from puppy mills. In Los Angeles alone, thousands of dogs are killed in shelters each year while hundreds of stores sell purebred puppies, sourced from puppy mills, to an uninformed public.
"This video contest is one more step in Best Friends' ongoing efforts to end the exploitative breeding of dogs and to change the practices of the stores that sell the puppies," Dunn said.
So far three stores, and now a fourth is in process, that have either closed or at looking at new business models.
For more information on how you can get involved in the fight to close down puppy stores and puppy stores, please visit Don't Buy Puppies.
About Best Friends Animal Society:
Located on 3,700 acres in Kanab, Utah, Best Friends Animal Society operates the country's largest sanctuary for homeless animals and is home, on any given day, to about 2,000 dogs, cats, horses, rabbits, birds, and other animals. Best Friends works globally with animal shelters and rescue groups to bring about a time when there will be no more homeless pets. Best Friends advances initiatives nationwide that promote community approaches to making the world a better place through kindness to animals, which includes adoption, spay-neuter, and humane education programs. Best Friends is the home of DogTown, a National Geographic Channel television series that chronicles the society's ongoing work with dogs.
Best Friends Animal Society: A better world through kindness to animals.
###