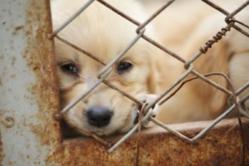 We hope that, by asking readers to become involved and reach out in support of this act, we not only bring light to an important topic, but we truly will effect change.
Boca Raton, FL (PRWEB) March 08, 2013
The Puppy Uniform Protection and Safety Act – The PUPS Act, if passed, will require commercial breeders who sell their puppies directly to the public via the internet, newspaper classifieds, or over the phone, to be licensed and inspected by the U.S. Department of Agriculture.
The current Animal Welfare Act, a law written in 1966 to set standards of care for animals bred for commercial resale, has received criticism in recent years due to a lack of adapting to modern technology. Because of loopholes in the law, those breeders selling directly to consumers through new technologies – like the internet – that weren't in place when the laws were written, have not had to comply with federal regulations and inspections. Basically, these animals are not even guaranteed their very basic needs to survive – clean water, food, shelter, veterinary care, exercise, etc.
"Online puppy sellers are generally the worst of the worst puppy mills," said Brandy Arnold, Content Editor for Dogington Post. "Dogs are kept in deplorable conditions, given only enough food and water to remain alive long enough to breed a litter of puppies, never receiving veterinary care, never feeling the grass beneath their paws. They are packed into rickety cages, standing in feces and urine, their nails untrimmed, illnesses untreated, and coats un-groomed – all because the laws have not been updated to include them."
As reported by USA Today, "Currently, abusive puppy mills are able to completely evade federal oversight by taking advantage of a pre-Internet loophole in current law, but the PUPS Act would change that," says Nancy Perry, senior vice president of government relations for the American Society for the Prevention of Cruelty to Animals. "Thousands of these mills have shifted online to evade the law."
The PUPS Act will require any breeder that sells more than 50 dogs each year to adhere to regulations set forth by the Animal Welfare Act, and to undergo USDA inspections and licensing. The act will also require that all dogs be adequately exercised, at least one hour each day.
"Because the Animal Welfare Act has not been updated to meet current technologies, the resulting loopholes have resulted in breeding facilities mistreating and abusing animals without legal ramifications," said Arnold. "We need to support the PUPS Act in huge numbers to help end puppy mills."
The Dogington Post reaches 2.5 Million dog lovers every week. The site urged readers to show their support of the PUPS Act by writing to their congressmen.
The popular dog news site has published articles about several cases of animal abuse and cruelty, including the Ohio railroad case; information about Michael Vick's dogfighting ring; several cases of dogs being left in hot cars to die; an 11 year old girl who beat a puppy to death; an animal control officer who shot multiple dogs; and many more.
"Our readers are outraged by any news of dog abuse," said Arnold. "We hope that, by asking them to become involved and reach out in support of this act, we not only bring light to an important topic but we truly will effect change."
For more information about Dogington Post and the PUPS Act, visit http://dogingtonpost.com.
About Dogington Post:
DogingtonPost.com was created for the love of dogs. It promises a forum of informative articles, newsworthy dog stories, health and breed information, and heartwarming videos. The site addresses current issues affecting dogs and their human parents – from serious health concerns to lifestyle issues on feeding, grooming and the overall well-being and mental health of dogs. It is the Internet newspaper, all about dogs.