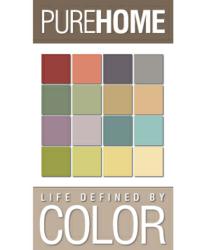 Seattle, WA (Vocus/PRWEB) January 27, 2011
Women are the largest and fastest-growing user group on the web, and they control more than 80% of purchases. Unfortunately, many industries and specifically the home decor industry, is still marketing most of its efforts toward male consumers. Pure Home Corporation has set out to fulfill female buyers' needs to connect and create, and has simplified the do-it-yourself home design process.
Pure Home's unique social commerce trading hub will provide women with lots of online home decor tools and applications to streamline their process for redecorating and interior design. Social connection through Facebook and other social media will be available with Pure Home's platform after the launch of their invitation-only beta site early this year. Since women are inherently community-minded and love to share and seek advice, the social platform available with Pure Home will facilitate their communication and connection through creative home design reviews, ideas, and products.
The fundamental emotions that drive female consumers into the buying process - creativity, transparent communication, and simplified functionality - are the primary points that Pure Home's platform will support. Pure Home's marketplace will provide a unique place for women to find contextually-matched products, candid reviews and conversation with other users, product merchants and brands, and a streamlined process that simplifies the selection and recommendation process for their home decor projects.
About Pure Home:
Pure Home is a social trading hub for the home decor industry, bridging the communications gap between buyer and seller by leveraging the Inspir™ Color Standard with their patent pending Contextual Search technology. Pure Home is bringing symmetry to the flow of information in an extremely fragmented marketplace, with a breakthrough user experience - giving consumers greater confidence in their home decor decisions. As more manufacturers become part of PureHome.com's social commerce platform, more and more products are becoming available for algorithm-fueled recommendations to consumers. Ultimately, Pure Home's breakthrough value proposition will result in the efficient balance of supply and demand—unfiltered by the economics of scarcity, and elevated by contextual matching—opening new markets and customers to sellers regardless of their geography, sales volume or revenue-generating constraints while lowering transaction cost within the marketplace.
For more information, visit the Pure Home web site at: http://www.purehome.com
or
the Pure Home blog at: http://blog.purehome.com
###