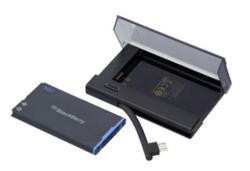 What's great about the new Blackberry cases are the bright colors. Variety is really important for tech crowds and that's exactly what these cases give them
(PRWEB) April 30, 2013
Blackberry's Q10 is blazing into stores in early May and Puremobile has been ready and waiting. Puremobile is unveiling a new line of cases for the Blackberry Q10 as the phone gets ready to hit the shelves. Cases by Incipio and Blackberry's own premium stereo headsets are at the forefront of Puremobile's new line.
Puremobile has been getting ready for the launch of one of the most celebrated phones of the year and E-Marketing Manager Nael Hatto says that it hasn't been an easy task for staff. "We've been anticipating a lot of interest in our new Blackberry Q10 accessories. They've already been selling really well and we hope to keep it up when the phone officially launches. It's been overwhelming, but we're excited to see what's coming next."
Puremobile's customers have been buying the new accessories and Hatto explains that the interest generated has been in part due to their boosted online presence. "We wanted to put a face to our company which meant we had to go out there on the front lines. It's been great talking to customers but our customer service has always been great. We just wanted to step it up a bit, so we really boosted our social media presence."
It's the customer support from the staff that has made Puremobile a leader in cell phone and gadget accessories. "We love what we do because we know technology is such an important part of our lives now. And everyone wants to stand out in a crowd, so we try to make that happen with our accessories."
The new Blackberry Q10 accessories have been a hit for customers looking to buy the new phone. Names like iLuv, Incase, Incipio, and Plantronics are all getting a piece of the action. "What's great about the new Blackberry cases are the bright colors. Variety is really important for tech crowds and that's exactly what these cases give them."
Puremobile.com is a leader in gadget accessories. Our company sells smartphone and tablet accessories with a personalized customer service that isn't available anywhere else. Whether it's a new iPhone case or a laptop bag, you can find it at Puremobile.