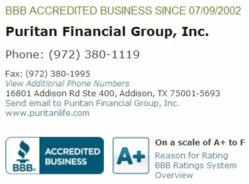 The BBB review reflects Puritan's committment to meet the highest standards of financial services for seniors.
Addison, TX (PRWEB) November 08, 2012
Puritan Financial Group Inc., a set of companies delivering services for the financial needs of retirees and individuals approaching the retirement age, announced today that it continues to meet the BBB standard of A Plus accreditation. Puritan Financial Group rating is base off its services model to provide financial planning for the experienced investor, supplying investment advice, including insurance products and financial services for low-risk financial solutions that provide positive income streams.
The Puritan Financial Companies consists of the following business units:
1. Puritan Investment Advisors, Inc., ("PIA")
2. Puritan Financial Group, Inc., ("PFG", "Puritan" or "Puritan Life")
3. Puritan Brokerage Services, Inc., ("PBS")
4. Puritan Life Insurance Company ("PLI")
Puritan Financial Group gives its investors the opportunity to allocate their assets in financial vehicles such as mutual funds. Mutual funds facilitate the collections of assets from several investors, which are in turn managed by an investment professional. Since mutual funds are relatively liquid, investors have ease of access to their funds. Other services supplied by the Puritan Financial Group include life insurance, health insurance supplement options, annuities and brokerage services.
Recent news releases on the Puritan Financial Group include:
Puritan gives back to Bridge Builders of Texas
Puritan Financial Group announced today that its employees have committed to donate their lunch breaks for six weeks to mentor at H.I.S. BridgeBuilders. BridgeBuilders has served the City of Dallas to advance urban transformation.
Puritan Financial Group Gives Back with African Children's Mission
The Puritan Financial Group announced that their employees have successfully contributed to African Children's Mission thought its Jeans Friday program. Every Friday, Puritan employees pay $5 in support of ACM to wear jeans.
Contact Puritan Financial Group
If you have questions, pick up the phone and talk to a Puritan Adviser. Puritan customer service staff enjoys hearing from you and would be happy to help you with your financial needs. Contact us on the web at http://www.puritanlife.com/about-puritan/contact-us/ or call us at Toll-Free: 1-800-513-3243.