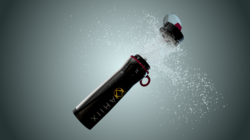 All water filters are not created equal – Puritii™ rises above them all. This is an amazing breakthrough product that we know will change lives.
-Dr. Fred Cooper
Bountiful, UT (PRWEB) June 12, 2012
Premier health and wellness company ARIIX is excited to announce the debut of Puritii™, their revolutionary new portable, patent-pending water filtration system. In a world where water quality is often uncertain and contamination a constant fear, the Puritii™ Water Filter Bottle offers a convenient and effective solution for ensuring the purity of the water we drink.
The revolutionary Puritii™ water filter was developed using a combination of the most advanced filtration technologies and materials known today. The unique patent-pending design incorporates three separate filtration technologies. Each technology performs a specific function that, when combined, provides performance like no other.

The patent-pending Zeosleeve™ technology within the Puritii™ filter incorporates the natural silicate mineral zeolite, which has a high affinity for capturing heavy metals and radioactive substances.
Electro positively charged filtration media "pulls" particles as small as viruses out of the fluid stream without restricting flow.
Activated Coconut Shell Carbon reduces waterborne chemicals, improving taste and eliminating offensive odors.
AquaSpear™ antimicrobial technology in the Zeosleeve™ component of the filter, combined with the anti-microbial properties of silver in the second stage of the filter, suppress the growth of bacteria, algae, fungus, mold and mildew within the filter.*
"With the Puritii™ filter, we can give people around the world confidence that they can have fresh, clean, great tasting water available everywhere they go," said Dr. Fred Cooper, ARIIX CEO. "All water filters are not created equal – Puritii™ rises above them all. This is an amazing breakthrough product that we know will change lives."
The ARIIX Puritii™ Water Bottle was created with the purpose of providing the highest quality with the purest results in water filtration. Our filter is the best available in the market today, tested and certified to meet and exceed NSF Standard 53 for the removal of Giardia, Cryptosporidium, Bacteria and Virus. The Puritii™ filter also exceeds NSF Standard 42 for chlorine removal.
Puritii™ water filter bottles are lightweight, come in a BPA-free Plastic or a sweat-less Stainless Steel version, are long lasting and will filter up to 50 gallons of water (about 400 refills using the Stainless Steel Puritii™ bottle), as well as offer an eco-friendly alternative to disposable water bottles.
Zeosleeve™ Technology does not protect users against food borne or disease causing bacteria, viruses, germs or other disease causing organisms.
About ARIIX
ARIIX is a premier health and wellness company that is using the latest research in nutritional science to create their leading-edge nutritional products. The company was born from the shared vision of leaders in business and nutritional science, who wanted to create a unique company based on the "golden rule" of helping others to unleash their potential for good. ARIIX stands out with their blend of global vision, outstanding industry experience and leadership, unparalleled quality nutritional supplements and the philosophy that when one person thrives, the whole community benefits. The company currently operates in the United States, Canada, China, Hong Kong, Japan, and Taiwan with expansion into Thailand, Mexico and Latin America throughout 2012.
For more information please visit http://www.ariix.com or phone 1-855-GO-ARIIX.