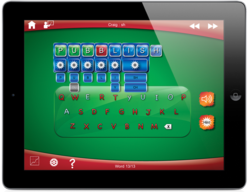 they are the best on the market at teaching your child how to spell in English
Edmonton, Alberta Canada (PRWEB) August 16, 2012
Studies have shown that many students lose valuable spelling and reading skills over the summer months. The students who have not been engaged in learning activities typically experience summer learning loss ranging from one to three months of grade-level equivalency.
The award winning Simplex Spelling series of apps can help bring students back up to grade level. Simplex Spelling has been highly recommended by teachers, speech language pathologists and parents including those that homeschool their children.
Educators are praising Simplex Spelling, and schools around the world have been purchasing thousands of copies of Simplex Spelling for use in the classroom. Carolina Nugent, Director of Education for the educational app store Kindertown, states "Simplex Spelling Phonics 2 Syllables is the app I wish I had in the classroom over the last few years to recommend to parents to use. It provides solutions to struggles both parents and teachers face." "Simplex Spelling has a feedback method that rivals anything a teacher can do in the classroom." Tobi Price, an assistant school principal, states "This app is very well made, easy to use, and engaging. Simplex Spelling would be especially useful in the classroom for teachers." "It's a solid buy for a classroom or for home."
Some of Simplex Spelling's numerous awards include a "Parents' Choice Approved Award" from the Parents' Choice Foundation along with multiple Golden App Awards and a Readers' Choice Award from Apps For Homeschooling.
The iMum states "Overall, I really like the Simplex Spelling apps and think they are the best on the market at teaching your child how to spell in English."
Each app in the Simplex Spelling series teaches more than a year of spelling based phonics curriculum using Pyxwise Software's unique "reverse phonics" approach for the low price of $4.99. During the Back To School sale Simplex Spelling Phonics 1 and Phonics 2 will be available on the App Store for only $0.99.
Device Requirements:
iPhone 3GS, iPhone 4/4S, 3/4G iPod touch and iPad
Requires iOS 4.0 or later
Universal Applications
Evaluation copies of the Simplex Spelling apps are available upon request for educators, SLPs, OTs, reviewers and teachers working with technology integration.