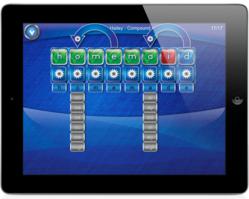 "Simplex Spelling Phonics 2 Syllables" is the app I wish I had in the classroom over the last few years to recommend to parents and to use.
Edmonton, AB Canada (PRWEB) June 19, 2012
Pyxwise Software's most recent app, "Simplex Spelling Phonics 2 Syllables - Spell to Read", has been featured as New & Noteworthy in the US App Store for the three weeks since it launched. Phonics 2 has also been featured as New & Noteworthy in an additional 17 countries.
Simplex Spelling HD - Dolch Sight Words was recently featured as New & Noteworthy on the App Store in 17 countries including the US, and "Simplex Spelling Phonics 1" has been featured in 5 countries along with additional categories such as "Words for the Wise", "Staff Favorites" and "What's Hot".
Simplex Spelling is being used with fantastic results teaching English as a second language. Reoccurring features in "Grammar & Vocabulary" in many non English speaking countries illustrates the wide appeal of Pyxwise's award winning app series around the world.
The unique reverse phonics approach used to teach literacy skills in Simplex Spelling is achieving great results with students everywhere. Dr. Lisa Welburn Ph. D. states "We couldn't be happier with all of the positive feedback we've been receiving from educators everywhere telling us what a difference Simplex Spelling is making in the lives of their children."
Tobi Price Assistant Principal stated on the site A4cwsn "I could list many more reasons why teachers and parents would love this app. The thing that stands out the most to me is the amount of content you are getting for the price. Most apps don't offer as much as Simplex Spelling does. I will be sharing this with other parents and teachers in my building. This app is worth the money, and I believe will help your child."
Carolina Nugent, a Teacher and Educational Director at KinderTown stated '"Simplex Spelling Phonics 2 Syllables" is the app I wish I had in the classroom over the last few years to recommend to parents and to use. It provides solutions to struggles both parents and teachers face. Also, as a reviewer, the app stands out in many ways as doing something different and valuable for our kids and families.'
Mary Fitz a Speech/Language Pathologist stated "My third graders on the autism spectrum loved this app. We worked on pronunciation and vocabulary while doing the spelling exercises."
Amanda Backof, SLP "Not only does this app help students learn spelling constructs, but it also teaches all of the sounds in words which will, fingers crossed, result in increased decoding skills. It looks mature for middle school students and provides lots and lots of practice."
Teachers With Apps states "Simplex Spelling Phonics 2, by Pyxwise Software, has just made their stellar collection of educational apps even better, A wonderful addition to their already wonderful repertoire, and a perfect segue from Simplex Spelling Phonics 1."
The combined series of Simplex Spelling apps contains more than three years of phonics based spelling curriculum covering more than 1300 high frequency words to help build literacy skills in both spelling and reading. It delivers exceptional learning experiences with a focus on intrinsically motivating and engaging children. It provides tools to teach phonological and phonemic awareness which are some of the most critical skills in predicting success with establishing long term literacy.
Device Requirements:

iPhone 3GS, iPhone 4/4S, 3/4G iPod touch and iPad
Requires iOS 4.0 or later
Universal Application
112 MB
Evaluation copies of our Simplex Spelling apps are available upon request for educators, SLPs, OTs, reviewers and teachers working with technology integration. When requesting an evaluation copy, please indicate the educational institution represented along with the type of students you work with, such as grade level, ESL students, or children with special needs.