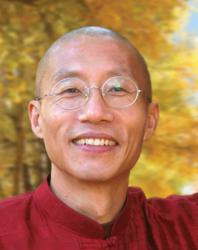 "I wanted to let western audiences hear how every one can improve health and happiness with Qigong. It helps people facing stress, illness and it is essential in supporting modern healthcare."
Petaluma, CA (PRWEB) April 30, 2013
Qigong Master Mingtong Gu talks about the benefits of Qigong for health and happiness in a new video four-minute short, that is being presented free to public television stations across the country for broadcast. "I wanted to let western audiences hear how every one can improve health and happiness with Qigong. It helps people facing stress, illness and it is essential in supporting modern healthcare."
Qigong (pronounced chee-GONG) is the mind-body-heart practice, quickly gaining an audience in the west. People who regularly practice Qigong report remarkable results, from more energy and clear thinking, to overcoming serious illness. This video short includes interviews with people who found Qigong helped them with such illnesses as Cancer, Parkinsons and depression. Qigong student Bianca Molle, who is profiled in the video short, says Qigong allows her to be free of Parkinson's symptoms and medications.
"Qigong is a gentle but powerful system that can be practiced any where, at any time, by any one—it begins by discovering the teachings, doing the practice, being ready for a full life." Master Gu said. At the core of Qigong is the concept of Qi. For over five millennia eastern teachers have taught that "Qi", described as a life force energy that flows through the body, influencing health, happiness and vitality. Illness, stress, aging and injury block the flow of the Qi. By practicing Qigong with its gentle movement, meditation, visualization and sound, a student learns to cultivate inner wisdom to improve everyday living. It has been used by millions to prevent illness and slow the aging process, and in tandem with conventional medical treatment.
The 4-minute educational video short for public television and the extended 7-minute version with more interviews for the internet are available for viewing at http://www.chicenter.com. Master Mingtong Gu founded The Chi Center to bring the teachings of Wisdom Healing Qigong, a form of Qigong that is focused on renewing wellbeing through the health challenges and stress of modern times. Master Gu leads retreats and multi-media online courses and workshops to guide students in shaping the inner discipline and intention for practice that can endure a lifetime.
About the Chi Center
Master Mingtong Gu is an internationally recognized teacher of Wisdom Healing Qigong. Master Gu is the founder of the Chi Center, which offers events, classes, retreats and multi-media online programs for the public and for professional practitioners and teacher training. Master Gu received his Qigong training from grandmasters in China and Tibet and at the world's largest medicine-less hospital in China. He is the 2011 recipient of Qigong Master of the Year award by the World Congress on Qigong. Founded in China over 5000 years ago, the Qigong practice improves energy and wellness through gentle movement, meditation, sound and visualization. The Chi Center is based at the Earthrise at IONS campus in Petaluma, CA, and Marin County.