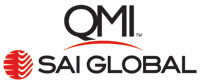 (Vocus) November 16, 2010
QMI-SAI Global announces the release of the all new training course, Understanding and Transitioning to AS9100 Rev C.
This new course is designed to identify the differences between AS9100's Revision B and Revision C, and provide the necessary guidance for companies to make the transition between the two. It will also prove valuable to those organizations seeking initial certification to AS9100C.
Attendees will experience practical workshops and simulations to develop the proper understanding of the material and enable an efficient implementation within their organizations.
This course includes a wide range of topics that will help managers accelerate and improve the management systems processes overall. It provides a detailed discussion on requirements included in the new versions of the aerospace standards.
The first part of the session gives a detailed discussion on the status of the transitioning effort and process approach. The attendees will be able to learn roles, responsibilities and timelines, as well as understanding the AS9100C and AS9101D standards.
The second part introduces risk management and configuration management. The course makes risk management understandable, and introduces several risk management tools. It also defines configuration management and explains the requirements.
Furthermore, discussions include project management, process nonconformities and implementation planning. Participants learn each step of the transition to AS9100 Rev C, what pitfalls to expect and how to avoid them and some key hints that can help make process outcome successful.
If a company has several employees that need this training, the course can be privately conducted at any facility, perhaps at a substantial cost savings depending on the number of class attendees. The course is also offered publicly in many locations across North America.
Cost of the two day AS9100 Rev C training course is $795. By signing up 60 days or more in advance, attendees can receive an early bird discount of 20% off retail price.
Company profile:
QMI-SAI Global, a division of SAI Global, helps organizations manage risk, achieve certification and drive improvement by providing training, registration audits and supplier management programs that can improve business performance. Featuring innovative solutions, used by thousands of companies and millions of individuals worldwide, are focused on workplace integrity, enhancing effectiveness and returns from management systems and processes. With more than 800 auditors and 24,000 registrations worldwide, QMI-SAI Global is a global leader committed to exceptional customer service and advancing business excellence. The company is number one in aerospace registrations across North America.
QMI-SAI Global is focused not only on evaluating business practices against a standard, but also on understanding how compliance with those standards can improve the operations of their customers. QMI-SAI Global auditors are industry veterans with years of experience in the sectors they serve, enabling them to interpret the standards precisely.
For more information, please visit qmi-saiglobal.com.
# # #