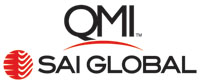 This webinar is intended to review the main structure of FSSC 22000 standard, registration process and the benefits of establishing it.
Toronto, ON (PRWEB) August 25, 2011
QMI-SAI Global announces a complimentary webinar FSSC 22000 Food Safety System Certification – GFSI.
This webinar is intended to review the main structure of FSSC 22000 standard, registration process and the benefits of establishing it. This session is developed for food manufacturers who supply or intend to supply their products to major food retailers and need to achieve FSSC 22000 certification to meet their requirements. Manufacturers that already certified against the ISO 22000 standard will only need an additional review against PAS 220 in order to meet the FSSC 22000 certification scheme.
The first part of the webinar, presented by Chairman of the Board of Stakeholders and General Secretary at FSSC 22000, will describe the history, benefits and current status of FSSC 22000 program. FSSC 22000 is internationally recognized food safety management system that was created in a need for international harmonization of food safety standards, such as ISO 22000, PAS 220 (ISO 22002 -1) and ISO-22003. FSSC 22000 has an independent scheme management, transparency and non-profit approach which gives trust to customers. The FSSC 22000 was founded in 2004 and incorporates 11 associated Certification Bodies for HACCP and 36 associated Certification Bodies for FSSC 22000. Over 270 FSSC 22000 certificates have been issued as of March 2011.
Furthermore, ISO 22000:2005 and PAS 220:2008 are described as foundation programs for FSSC 22000 standard. Participants will learn what the certification process for manufacturers according to FSSC 22000 organization means. The main points, such as implementing ISO 22000 and PAS 220, meeting FSSC 22000 scheme requirements, establishing validity of certification and cost will be discussed. Attendees of this session will be also introduced to the vision and mission of FSSC 22000 organization, goals for 2011-2012 and their integrity program.
In addition, a new Information Bulletin is issued by the Foundation for Food Safety Certification, owner of the FSSC 22000 certification scheme, on the benefits and strengths of FSSC 22000. Also the main differences between FSSC 22000 and other GFSI recognized schemes are taken up in this Bulletin. See the Bulletin attached to this article and read more!
The second part of the webinar, presented by the Manager of Agri-Food at QMI-SAI Global, will show a roadmap to certification. The session will define the path for any organization to how get started and become certified. Becoming educated on the standards, selecting the standard that is right for you business, having a Gap Analysis done, selecting a certification body – those are main steps that any company needs to take to achieve results and success in implementing food safety management system.
This webinar recommended for food production managers, food quality managers and supervisors, line supervisors, food safety certification personnel, industry consultants, advisors and all other individuals interested in learning more about the FSSC 22000 standard and how it can be beneficial for their organization.
QMI-SAI Global offers to take Understanding and Implementing the FSSC 22000 Food Safety Management System training course, which discovers FSSC 22000 scheme more in details and helps attendees to lay out a plan of action for implementing a food safety management system.
QMI-SAI Global has a variety of training courses on food safety available. One of the new courses that the company is excited to offer is a release of BRC Global Standard for Food Safety in relation to issue 6.The standard has been updated to provide increased emphasis on good manufacturing practice and ensures that the requirements of manufacturers and retailers are met. The first BRC V.6 courses will be offered publically in USA and Canada in October 2011. Exact dates and locations will be announced soon. Find out more!
Company Profile:
QMI-SAI Global helps organizations manage risk, achieve certification and drive improvement by providing training, registration audits, and supplier management programs that can improve business performance. With more than 800 auditors and 24,000 registrations worldwide, the company is a global leader committed to exceptional customer service and advancing business excellence.
QMI-SAI Global is focused not only on evaluating business practices against a standard, but also on understanding how compliance with those standards can improve the operations of our customers. QMI-SAI Global auditors are industry veterans with years of experience in the sectors they serve, enabling them to interpret the standards precisely.
QMI-SAI Global Training and Improvement Solutions specializes in offering a range of innovative learning approaches and tool-based solutions to enable both individuals and organizations to achieve key objectives.
# # #