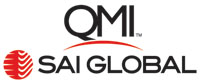 Companies that are already registered to ISO 9001 are 60% closer to ISO 14001 and OHSAS 18001 registration.
Toronto, ON (PRWEB) August 16, 2011
QMI-SAI Global announces a complimentary webinar You Are Closer Than You Think to ISO 14001 and OHSAS 18001 Registration.
This webinar is developed for ISO 9001 registered companies that have a structured management system already in place and want to improve their business performance by incorporating Environmental or Occupational Health & Safety processes into the existing system. Participants will understand the similarities between the standards and will see what additional components need to be developed and implemented to meet the requirements of a formal EMS or OHSMS thereby maximizing the value of the current QMS and achieving business advantage for the organization.
The first part of the webinar will explain the benefits of adding an EMS or OHS to the current QMS and will also explain why such an approach makes it easier and less expensive. By having a registered ISO 9001 system, the company has a potential head start on implementing an EMS or OHSMS. Since ISO 14001, OHSAS 18001 and ISO 9001 have many common requirements, organizations will see that approximately 60% of the processes and procedures for EMS or OHSMS are potentially already in place. Enhancing the company's QMS to include an EMS or OHSMS can help to identify and reduce environmental and health & safety risks, improve environmental or OHS performance and achieve management system benefits including internal and external cost efficiencies. Implementing an EMS or OHSMS may help the company to gain competitive advantage, meet customer requirements and gain access to new markets and customers. The OHSMS can improve the processes for managing OH&S risks, reducing injury and illness, reducing absenteeism and increasing productivity. It can also reduce worker's compensation costs and healthcare premiums, promote a safer workplace and improve employee satisfaction.
The second part will provide an overview of the ISO 14001 and OHSAS 18001 standards, and show the correspondence with ISO 9001. Participants will get an understanding of the main components of an EMS or OHSMS and will see how these are relevant and apply to every industry and business sector.The common requirements such as documentation, control of documents and records, policy, objectives, targets, programs, planning, internal communication, management review and others will be briefly reviewed with examples of industry best practices. Participants will get an understanding of the similarities and gaps relating to each of the requirements so they can plan for the work that will need to be done. At the end, attendees will receive a special offer if they decide to move forward with implementation.
This session is recommended for all individuals who are involved in implementing or improving the organization's quality, environmental or OH&S programs and are interested in learning about how the existing QMS can provide a strong foundation from which to build and establish an effective environmental or OH&S management system.
In addition, QMI-SAI Global offers a variety of training courses on ISO 14001 and OHSAS 18001 implementation and auditing skills. Learn more!
Company Profile:
QMI-SAI Global helps organizations manage risk, achieve certification and drive improvement by providing training, registration audits, and supplier management programs that can improve business performance. With more than 800 auditors and 24,000 registrations worldwide, the company is a global leader committed to exceptional customer service and advancing business excellence.
QMI-SAI Global is focused not only on evaluating business practices against a standard, but also on understanding how compliance with those standards can improve the operations of our customers. QMI-SAI Global auditors are industry veterans with years of experience in the sectors they serve, enabling them to interpret the standards precisely.
QMI-SAI Global Training and Improvement Solutions specializes in offering a range of innovative learning approaches and tool-based solutions to enable both individuals and organizations to achieve key objectives.
###