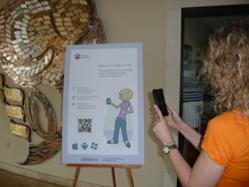 QR codes will make it even easier for members to support their organizations
Cooper City, FL (PRWEB) November 30, 2012
Linxter announced today that it is adding Quick Response (QR) code mobile donation support to allAware, a mobile app designed to enhance communication and member engagement for nonprofit organizations. "QR codes will make it even easier for members to support their organizations," Jason Milgram, founder and CEO of Linxter said. "All they will have to do is open the app and snap a picture."
For a small set up fee, organizations get the QR code functionality turned on for their account and a customized poster with their unique QR code, which will link directly to a donation form in the allAware app. People, whether they are a member of your organization or not, will then be able to select the amount they wish to donate, set it as a one-time or recurring donation, and either pledge the amount or select a credit card to make the payment in real-time.
"We want to make it as easy as possible for nonprofits to capture that moment of inspiration," Milgram said. "We have been hearing a lot of interest in member organizations about QR codes and we see them as a great tool in the nonprofit toolbox to help reach out and engage members."
QR codes are seeing an explosion in adoption. According to one study, usage of QR codes has skyrocketed by more than 600% from January to December 2011 in the Top 100 U.S. magazines with 99% of magazines publishing at least one QR code. According to another study, half of all smartphone users in the U.S. have scanned a QR code at least once. "As users become more comfortable using QR codes, we want to make sure allAware is right there with them," Milgram said. "Our goal is to make allAware the easiest platform for nonprofits to tell their stories, engage their members and enable simple mobile giving so the community can help keep the lights on at those nonprofits that work hard at making their community a better place."
To learn more about allAware, please visit http://www.allware.com
About Linxter Inc.,
Linxter, Inc. provides easy-to-use, affordable, cloud and mobile technology solutions, focused on solving communication and financial transaction challenges. Linxter is a Microsoft BizSpark One alumni company.