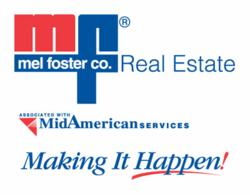 To have Mel Foster Co. as a partner and raise money to help homeless families turn their lives around
Quad Cities IA/IL (PRWEB) November 16, 2012
Mel Foster Co.'s Putt for Charity event raised $15,000 for the Humility of Mary Housing, Inc. The money collected from the November 8th Putt for Charity event will help empower, strengthen, and increase self-reliance of homeless single parent families.
150 golfers and "caddies" enjoyed 18 themed holes of miniature golf and enjoyed hors d'oeuvres, music and a cash bar. Two lucky winners tried for a chance to win $5,000 at a hole in one contest sponsored by Radon Solutions.
"To have Mel Foster Co. as a partner and raise money to help homeless families turn their lives around and to become productive members of the Quad City communities is rewarding," commented, Sister Mary Ann Vogel of Humility of Mary Housing, Inc.
"With the help our generous partners, we can help Humility of Mary Housing, Inc. deliver help to individuals and families in need," said Kris Ratigan, director of corporate marketing of Mel Foster Co. "Since the inception in 2009, this was our largest donation yet! A strong sense of family and community prevails at Mel Foster Co. and with our sponsors."
About Mel Foster Co.
Founded in 1921, Mel Foster Co. is the Real Estate Leader of Eastern Iowa and Western Illinois serving Davenport, Bettendorf, Moline, Rock Island and the surrounding Quad City area, and it is Iowa's largest independently owned real estate company. The company specializes in residential sales and offers services in insurance, commercial, farm and land sales, land development, and management, relocation, career development, new construction and senior services. Visit our website at http://www.melfosterco.com for more information.
About Humility of Mary Housing
Humility of Mary Housing was founded in 1990 as a transitional and permanent supportive housing program that provides sing-parent families experiencing homelessness with opportunities for growth and development that could result in self-sufficient living. In our 22 years we have served 711 families and 1394 children. For more information, visit http://www.humilityofmaryhousing.com.