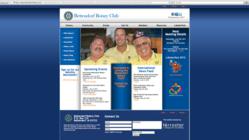 Working with Terrostar Technology Solutions on the Bettendorf Rotary website was a very smooth and rewarding experience
Quad Cities Iowa and Illinois (PRWEB) June 06, 2012
The Bettendorf Rotary Club has launched the new and improved http://www.bettendorfrotary.com to help grow its membership and bolster the organization overall. The website design and website programming were donated entirely by Quad Cities Website Design and Internet Marketing firm, Terrostar Technology Solutions.
Originally launched nine years ago, the old website has won multiple awards from Rotary International. "We hope the new version will do the same," says Terrostar's Director of Client Relations, Chris Glass. "Our goal was to give the Bettendorf Rotary a website that was more visually appealing and that allowed the Rotary to showcase its role in the Quad Cities community," he added.
The new website has an intuitive navigation system, more information about the Bettendorf Rotary and its upcoming events, along with multimedia and social share features. For Rotary members, Terrostar developed a member center that allows them to update their personal information, pay dues online using a simple ecommerce feature, and to search for fellow Rotarians. The website is powered by a content management system that makes updating it quick and easy for Bettendorf Rotary volunteers.
According to Bettendorf Rotary Club President, Scott Naumann, "Working with Terrostar Technology Solutions on the Bettendorf Rotary website was a very smooth and rewarding experience. The original site they designed for us back in 2003 won two separate awards from Rotary, and I suspect that our newest website will continue that tradition as it truly is an award winning website. Terrostar's donation and continued support of the Bettendorf Rotary is a blessing, and we are so proud to have a partner like Terrostar. I would recommend them to any company looking to create a new website, or redesign an existing one. Thank you Terrostar for such a great experience, and a great website."
About Terrostar
Formed in 1999, Terrostar is a Quad Cities small business that specializes in Custom Website Design, Mobile Application Development (iOS and Android), eCommerce and Web Application Development, Internet Marketing and Search Engine Optimization.