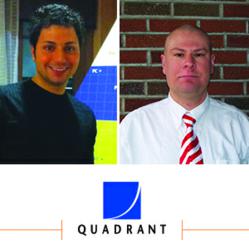 The extent to which Quadrant has assembled a strong organization through developing its people, processes, and products has set it apart from the competition.
Reading, PA (PRWEB) March 01, 2013
Quadrant Engineering Plastic Products, the global leader of high-performance engineering plastics, today announced the appointment of Mr. David Summers and Mr. Andrew Raugh to key director level positions.
Mr. David Summers has been promoted to the position of New England Territorial Manager.
A veteran employee of Quadrant, Mr. Summers has spent close to a decade working in various departments of the company including compression molding, extrusion, inside sales, and parts. According to Mr. Summers, Quadrant is a company that "promotes quality and stands behind every single piece of plastic that goes out of our door." In his new role Mr. Summers will be responsible for managing Quadrant's distribution throughout New England; additionally he will also oversee the production of parts sold to this distribution network. His industry tenure has prepared him for the challenges he will face in his new position, and he looks forward to working with Quadrant's tremendous resources to further identify and develop polymer solutions for applications worldwide.
Mr. Andrew Raugh assumes the position of Production Supervisor - Reading, Pennsylvania.
Before coming to Quadrant Mr. Raugh has held positions as an Engineering Production Supervisor and a Quality Engineer at the Bachman Company and Tyco Electronics. While Team Supervising the Production Employees his primary focus will be secondary operations of the AEP Extrusion and GEP Cast departments including the four site Quality Specialists. Mr. Raugh noted that, "the extent to which Quadrant has assembled a strong organization through developing its people, processes, and products has set it apart from the competition." As a life long resident of Berks County Mr. Raugh looks forward to using his experience in the field to continue to drive continuous improvement at Quadrant EPP.
With the appointment of these two experienced and highly-qualified individuals, Quadrant further enhances its uniquely talented team. Spanning 20 countries and employing over 2,000 people, there is "Simply No Substitute" for Quadrant.
About Quadrant Engineering Plastic Products:
For over 70 years, Quadrant Engineering Plastic Products (EPP) has been proving there is simply no substitute for quality, innovation and distinction. Quadrant EPP is the global leader of high-performance engineering plastics that are used for machined parts in food processing and packaging, semiconductor manufacturing, aerospace, electronics, chemical processing, life sciences, power generation and diverse industrial equipment. Its superior products range from UHMW polyethylene, nylon and acetal to ultra-high performance polymers that resist temperatures to over 800°F (425°C).
With a rich history as a company who pioneered machinable plastics, Quadrant is backed by a global team of application development and technical service engineers who specialize in evaluating designs and machining parts. Products and services are available through a worldwide network of branch offices, technical support centers and authorized dealers. Learn more about Quadrant at http://www.quadrantplastics.com . Use the Industry or Product Finders to access specific information, specs and applications. Connect with Quadrant, "quadrantepp" on Facebook, YouTube, and Twitter.
Registered trademarks of the Quadrant group of companies: Acetron®, CleanStat®, Duraspin®, Duratron®, Erta®, Ertalyte®, Ertalene®, Ertalon®, Extreme Materials®, Fluorosint®, Ketron®, MC®, Monocast®, Nylatron®, Nylasteel®, Polypenco®, Proteus®, Sanalite®, Semitron®, Techtron®, TIVAR® and Vibratuf®.
Media Contact:
Kim Imes, Marketing
Quadrant Engineering Plastic Products
kim.imes(at)qplas.com
610.320.6709
High-Res Images & Expert Interviews Available