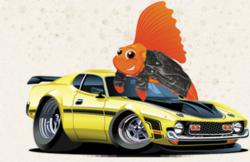 If there was ever a weekend to visit London on the quest to soak up culture, this would be the perfect one.
New York, NY (PRWEB) June 02, 2012
RoadFish.com men's lifestyle and finance magazine today encouraged friends, family, and readers living in the UK to participate in celebrating the 60th anniversary of the Queen's reign over England. All over London, festivities will take place starting on Saturday, June 2nd and commencing on Tuesday, June 5th in honor of Queen Elizabeth II's Diamond Jubilee. This is only the second Diamond Jubilee ever to be celebrated in England, and RoadFish.com urged travelers to soak in the culture in this once-in-a-lifetime opportunity.
Many Brits are preparing for the fast-approaching Summer Olympics, hiring estate agents to rent out their flats to visitors, making plans to exit the city for the booming crowds that it will attract, but there is an even earlier event that RoadFish.com urges folks to focus on. Eddie Buckle of The San Francisco Chronicle reported that official celebrations began on Friday, June 1st, as the HMS Diamond (a Royal Navy warship) kicked off the Diamond Jubilee weekend with a 21 gun-salute upon its arrival into the Portsmouth Harbor. Activities over the weekend to honor the 86-year-old Queen's reign include the Epsom Derby on Saturday, which the Queen will attend. On Sunday, the Queen will lead over 1,000 boats on the River Thames in one of the largest fleets ever to be seen on the River. Monday night will be a massive concert at Buckingham Palace, featuring musical greats Paul McCartney, Elton John, and Tom Jones to name a few. The Queen and members of the Royal Family will attend, and the concert will be broadcast on BBC One and Radio 2. To wrap up the holiday weekend, on Tuesday, the Queen and Family will attend a Thanksgiving service at St. Paul's Cathedral and will later travel in a carriage procession from Westminster Hall to Buckingham Palace.
RoadFish.com raves about the "unique royal culture" of the holiday weekend, and urges friends and family to soak in the culture if they are anywhere near London. RoadFish.com's Senior staff writer is quoted as saying, "It is so amazing to me that one person can reign for as long as Queen Elizabeth II has. Especially where, here in America, our Presidents are only allowed to serve 8 years total… the Queen has served over seven times that length! She is a remarkable woman, and I wish I could be there to experience the rich culture of England this weekend. If there was ever a weekend to visit London on the quest to soak up culture, this would be the perfect one. To all my friends, family, and readers living in or visiting the UK—don't miss out on this incredible celebration."
RoadFish.com points out that though many of the events the Queen will be attending are exclusive or sold out already, there are many more public festivities that families can participate in throughout the city. Spectators can certainly view the Thames River Pageant from the riverbanks, and on Saturday can take part in the annual Big Jubilee Lunch. The Big Lunch is designed to unit Brits to share community and food, and last year nearly 2 million people took part in the event, participating through getting a few neighbors together or by hosting or joining huge block parties.
One festival that especially appealed to RoadFish.com as a wonderful family event is Sainsbury's (a European grocery store) Jubilee Family Festival, taking place in London's Hyde Park over Saturday and Sunday this weekend. According to the London Evening Standard, activities will include motorcycle stunts, marching bands, food and drink stands, parachutists, comedians, live music, and even Broadway renditions from well-known and loved shows. West End performances from "The Lion King," "Billy Elliot the Musical," and "War Horse" will be part of the spectacular acts at the Jubilee Family Festival. Other highlights include entertainers from the BBC's "Strictly Come Dancing," as well as children's amusement in the form of characters from "Fireman Sam," "Angelina Ballerina," and "Thomas the Tank Engine."
RoadFish.com's Senior staff writer is quoted as saying, "If I could be in London this weekend, I would attend the Jubilee Family Festival without a doubt. What's better than live entertainment, music, comedy, food stands, and street performers to celebrate a holiday weekend? It's such a summery, fun, and family-oriented event. Of all the festivities taking place over the weekend, this one really captures many different elements, and seems as though it has something for everyone."
The above-mentioned SF Chronicle reports that this weekend's Jubilee is a particularly special one, since throughout the history of England, there has only been one British monarch who has served on the throne longer than Queen Elizabeth II. Queen Victoria reigned for 64 years, from 1837 to 1901, thus making this weekend's Diamond Jubilee only the second ever in British history. Buckle writes that Queen Victoria's Diamond Jubilee in 1897 is the single model after which this weekend's activities are based, and the footage itself is captured in grainy black-and-white film. Prime Minister David Cameron is quoted in Parliament's "The House" magazine as saying, "For 60 years the Queen has been a point of light to our national life; brilliant, enduring, and resilient. Through a reign of unparalleled change—from postwar Britain through to the jet age, space age, and digital age—she has remained resolutely unchanged in her commitment to this country."
About RoadFish.com
RoadFish.com is an online men's lifestyle and finance magazine targeted toward men in their 30's and 40's that have already attained a moderate level of success in life, and are striving toward more. It goes over current events of interest to this group, such things as exciting adventures, consumer interests, and advances in space craft, as well as ways to make more and save more money. It is a publication owned by Purpose Inc.