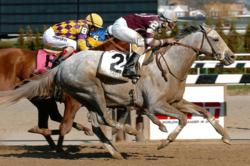 QueenBeeTickets.com is now offering discount Kentucky Derby tickets for sale to the general public.
Germantown, Wisconsin (PRWEB) March 16, 2013
Horse racing aficionados who find affordable Kentucky Derby tickets for sale are going to jump at the chance to get seats at lower prices for the famous event. The race takes place each year on the first Saturday of May, which happens to fall on May 4 in 2013. Fans will travel to Churchill Downs in Louisville, Kentucky, where the race has been held since its inception in 1875.
The Kentucky Derby is an event for thoroughbreds three years of age. It is the first stop in the Triple Crown, with the Preakness Stakes and the Belmont Stakes following. The Derby has existed since 1875 without a hiatus, unlike the other two races that did take short breaks at one time. Kentucky Derby tickets are very popular among horse racing fans, and attendance for this particular race is usually higher than for the Preakness and Belmont.
The atmosphere at the Derby is unique due to a number of traditions that prevail. One such tradition is the mint julep which is the beverage of choice. Another tradition is the serving of burgoo, a stew containing chicken, pork, beef and vegetables. When the horses are walked in front of the grandstands, it is usual for "My Old Kentucky Home" to be playing in the background. Yet another tradition is the placing of a lavish blanket of more than 500 roses on the winning horse. Because of this custom, the race has also often been called "The Run for the Roses."
Discount Kentucky Derby tickets are prized by sports fans who look forward to this famous event every year. It is an exciting experience to be watching from the stands while majestic horses thunder around one and one quarter miles of track to determine the winning horse and jockey. The event has been referred to as the fastest or the most exciting two minutes in sports, and fans who have attended past races at Churchill Downs will attest to that fact. No other horse race seems to generate the same amount of excitement. It is easy to see why Kentucky Derby tickets are very popular and are usually snatched up quickly once becoming available.
QueenBeeTickets.com has discount Kentucky Derby tickets in many price ranges. The user-friendly website offers security with all transactions to protect personal data, and prompt delivery is provided. Other top sellers in the horse racing category include Kentucky Oaks tickets and Belmont Stakes tickets.