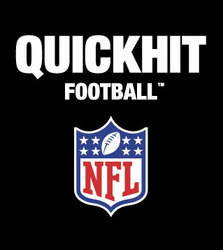 "This partnership is a key part of our goal to expand and enrich the online experience for NFL fans throughout the year" - Hans Schroeder, VP, Media Strategy & Development, NFL.
Foxboro, MA (PRWEB) June 10, 2010
Quick Hit, Inc. ("QUICKHIT"), a leading developer and publisher of free social sports games, made news in advance of the Electronic Entertainment Expo (E3), announcing that it has secured a multi-year NFL license from the National Football League. Under the terms of the agreement, QUICKHIT will have the right to use NFL trademarks in its successful free-to-play, browser-based game, QUICKHIT Football. Although the financial terms of the deal were not disclosed, the license includes the 32 NFL team names, logos, colors, uniform and helmet designs, as well as the Super Bowl, NFC, AFC, and Pro Bowl logos.
"This agreement represents an exceptional opportunity to partner with the National Football League in the exploding digital and social gaming space," said Jeffrey Anderson, QUICKHIT's founder and CEO. "Their focus on quality and authenticity is the same as ours, and we look forward to working closely with them."
QUICKHIT's agreement with the NFL will provide compelling game play for football fans of all ages. Starting with the 2010 season, online fans will be able to show their support and affinity for a given NFL team by customizing their QUICKHIT Football team. Options will include the ability to choose the logos, colors and uniforms of their favorite NFL team, select plays that are consistent with that team's style of play, and much more.
"We are excited to partner with QUICKHIT and enhance the gaming experience online for our fans," said Hans Schroeder, Vice President of Media Strategy and Development at the NFL. "This partnership is a key part of our goal to expand and enrich the online experience for NFL fans throughout the year."
Attendees at E3 can catch a sneak peek of the game's new NFL trailer and hear more about QUICKHIT Football at the company's booth in the South Hall (Booth #3013), including an exclusive event on Wednesday, June 16th, from 4:00-6:00 p.m.
QUICKHIT Football started its open beta in October 2009 with the goal of making a free, accessible and authentic football game for the masses. In just a few months, the game attracted more than a million users. QUICKHIT Football features NFL personalities like Super Bowl-winning coaches Bill Cowher and Brian Billick, as well as players like Randy Moss, Ray Lewis, Brian Westbrook, Barry Sanders, Randall Cunningham, and more. The addition of NFL team marks and logos to the game provides fans even more realistic and riveting gridiron action this year. For more information, visit http://www.quickhit.com/NFL.
ABOUT QUICKHIT® AND QUICKHIT FOOTBALL™
Headquartered just outside of the New England Patriots' stadium in Foxboro, Massachusetts, QUICKHIT® is developing free online social sports games and entertainment for a global audience. Our games fill a massive void in the sports industry by offering head-to-head competitions that combine a rich graphical experience, the accessibility of Adobe® Flash®, and the wide appeal of fantasy sports. Our first title, QUICKHIT® Football™, is a free authentic NFL football game that doesn't require a credit card or install. Its compelling graphics, hard-hitting action and feature-rich game play take online sports games to a new level. Play head-to-head against former NFL coaches like Bill Cowher or Brian Billick; take on NFL stars like Randy Moss, Ray Lewis, and more; or sign NFL legends like Barry Sanders, Warren Moon, James Lofton, and many more. QUICKHIT Football offers a persistent gaming experience that lets fans build and manage a football dynasty. Play fast, fun, free online football games, earn fantasy points with every game, sign new players, and watch your team grow. Create your team today at http://www.quickhit.com.
QUICKHIT, QUICKHIT logo, and QUICKHIT Football are all trademarks or registered trademarks of Quick Hit, Inc. in the U.S. and/or other countries. Team names/logos/indicia are trademarks of the teams indicated. All other NFL-related trademarks are trademarks of the National Football League. Adobe and Flash are either registered trademarks or trademarks of Adobe Systems Incorporated in the U.S. and/or other countries. All other trademarks are the property of their respective owners.
Press Contact:
Samantha Smith
QUICKHIT®
(508) 203-4852
# # #