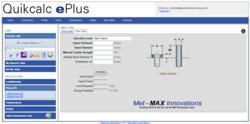 Seamless upgrades will take place throughout the year as a way to constantly improve and add to the program.
Tiffin, OH (PRWEB) February 12, 2013
National Machinery's engineering division Met-MAX Innovations recently released the latest upgrade to their cold forming calculation software Quikcalc. The program has been renamed Quikcalc ePlus to emphasize its new website platform, which can be found at http://www.quikcalceplus.com. The upgrade moves the calculation program from dated technologies such as disk installations, USB downloads, and serial port keys to hosting the entire program online at quikcalceplus.com.
Traditionally Quikcalc has been and still is a calculation software that simplifies cold forming calculations by saving time and reducing guesswork for difficult design analysis. The new Quikcalc ePlus does not require downloading or software, only an internet connection for accessing the website. It was designed to run on major web browsers from devices with larger screens. Registered users can now log into the program from various machines to access their personal account, but can only be logged into the program from one device at a time.
The new platform allows for multiple languages (English, German, French, Spanish, Portuguese, Italian, Japanese, and Chinese), seamless upgrades, unit preferences, email job functions, online host saving, and a modern easy-to-use design. Dale Wisebaker adds, "Seamless upgrades will take place throughout the year as a way to constantly improve and add to the program." The initial upgrade comes with a new Load & Energy calculation Combined Forward & Backward Extrusions on the same end of the Blank, and Round, Hex, & Square shape options have been added to several of the load & energy calculators. Email job functions enable the user a one-click method for emailing calculation results instantly to their registered email addresses. Online saving allows the user to save all jobs online directly to their account so that they can access them again from any machine they use to log in.
Quikcalceplus.com will now be offered in year-long subscriptions and can be registered and paid for entirely online from the website. Also available on the website is a demo of the program so you can see it in action, or the option to sign up for a 15 day trial. For more information visit quikcalceplus.com
About National Machinery LLC - world leader in cold forming machines
National Machinery is an innovative leader in the cold forming industry. The company has been paving the way in new machine technology and high quality products and services for over 100 years. National's current products focus on advanced cold forming machinery, process and tooling technology, aftermarket parts and service, and used machinery.
Met-MAX Innovations is a division of National Machinery dedicated to delivering solutions for net-shape forming of metal parts. Met-MAX stands for pushing Metal to the Maximum.
The company is headquartered in Tiffin, Ohio with service centers in Nürnberg, Germany; Nagoya, Japan; Suzhou, China and Sales offices all over the world. For more information about this company visit http://www.nationalmachinery.com