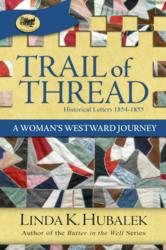 'Celebrating America' is the perfect theme for National Quilting Day to showcase the quilters that helped shape our country.
Lindsborg, Kansas (PRWEB) March 15, 2013
"The theme for this year's National Quilting Day is 'Celebrate America'," said Linda K. Hubalek, author of the popular pioneer women's book series, Trail of Thread, that features quilting as one of the story lines.
National Quilting Day was established in 1991 by the National Quilting Association. Officially, National Quilting Day is the third Saturday in March. Unofficially, the celebration has expanded to the entire month.
"My idea for the Trail of Thread book series started with an antique quilt my mother received from her great aunt in 1938. The quilt was over 100 years old at that time. It traveled with my Kennedy ancestors in the 1850's from Ohio to the Kansas Territory as the family moved for new land, and to help Kansas become a Free State in the Union."
This book series, written in the form of letters sent back home to relatives, illustrate the energy and determination it took to move to a new territory. Each book in the series mention twelve quilts in the letters, with the quilt block patterns illustrated in the back of the book.
" 'Celebrating America' is the perfect theme for National Quilting Day to showcase the quilters that have shown patriotism in their quilts, from Colonial to current times. Quilting and quilters have always been a part of our American history," said Linda K. Hubalek.
For more information about pioneer woman's role in homesteading and quilting, please be sure to read Linda K. Hubalek's historical pioneer books, Trail of Thread, Thimble of Soil, and Stitch of Courage. These books (also in ebook form) are available in stores, or online at Amazon.com, BN.com, or ButterfieldBooks.com.
About Butterfield Books Inc.:
Founded in 1994, Butterfield Books Inc. publishes and promotes books about Kansas and its pioneer history. The company is located in Lindsborg, Kansas, known as "Little Sweden USA."
About Linda K. Hubalek:
Author Linda K. Hubalek writes books about the pioneer women who made Kansas their home. Her books are published by Butterfield Books Inc. and they include the Trail of Thread, the Butter in the Well, and the Planting Dreams series.