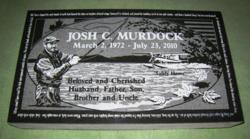 "We are honored to be chosen by this prestigious organization in North America from the more than 100 submissions from the USA and Canada."
- David Quiring
Seattle, WA (PRWEB) November 01, 2012
The design committee of the American Institute of Commemorative Art, which is dedicated to increasing the artistic quality of cemetery memorials, selected Quiring's Josh C. Murdock memorial and its Tears Foundation memorial for 1st and 3rd place awards in their respective categories.
"We are honored to be chosen by this prestigious organization in North America from the more than 100 submissions from the USA and Canada. Personalized memorials reflect the uniqueness of our people and provide a permanent focal point for family and friends to work their way through the grieving process." - David Quiring, President, Quiring Monuments
The Josh Murdock memorial won 1st place in the 'Single/Companion Markers' category. When the Murdock family called Quiring Monuments with ideas for Josh's memorial they had some very specific ideas that Mr. Quiring knew would be best captured in Quiring's tri-tone sand-carving process. Josh was an avid fisherman and the foremost image on the memorial is a portrait of Josh fly-fishing and giving the special "look" that reconnects his family to him every time they see his face. Josh is from the US and his wife is from Canada. The Canadian and US flags are symbols of their union and were present at their marriage. The tree in the upper right corner represents their family tree and the four leaves, their four children. Josh worked as a commercial pilot and his float plane is depicted in detail while the poem High Flight surrounds the outside edge of the memorial and is an expression of the joy flying gave him.
"The Tears Foundation" memorial won 3rd place in the 'Public/Civic Memorials' category. Quiring donated this memorial to an organization that is a national group that assists bereaved parents with the financial expenses of making final arrangements for their baby who has died. The central tablet features an inlay of newly developed DuPont SentryGlas® that is interlayered with proprietary ink jet technology and then laminated between sheets of special safety glass. This memorial allows for the names of infants to be added to the memorial thereby creating a permanent place for the grieving families to visit. More butterfly wing tablets will be added as needed.
To learn more about Quiring Monuments, you can visit their website at http://www.monuments.com or you can watch their movie explaining Living Headstones® – Internet Connected Memorials that were pioneered by this 62 year old Seattle monument company.