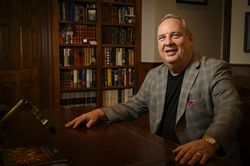 My passion for quotes, creating them based on my own experiences, and reading those of the greatest leaders in history, inspired me to compile this book -John Addison
GAINESVILLE, Ga. (PRWEB) December 02, 2020
Addison is known for his coined phrases that offer invaluable advice to every person in a leadership position, whether they are family leaders, church leaders, or industry leaders.
"My passion for quotes, creating them based on my own experiences, and reading those of the greatest leaders in history, inspired me to compile this book. Great quotations inspire us and guide us in living our best life!" says Addison.
Addison highlights the importance of words and the power they hold. Addison also encourages sharing knowledge, encouraging people to take on the role of leadership, and doing so with integrity.
Addison had the idea for Addisonisms: Quotes to Live By in late 2019/early 2020.
"Mr. Addison noticed the influx of engagement on two types of social media posts, pictures of his garden and his quotes. We also noticed quite a lot of his fans sharing his popular quotes in their own graphic creations. Since he's well known for his unique spin on life and business, we were thrilled to put together a book of his most loved quotes and the words of others that continue to inspire him daily," says Tess Helmandollar, CMO of Gravity Junction, a Gainesville, GA marketing and software development agency.
John Addison is former co-ceo of the financial services giant, Primerica and is currently the CEO of Addison Leadership Group. Addison shares his knowledge with business people everywhere through his best-selling book Real Leadership, keynote engagements, consulting, and leadership courses. Addison believes that everyone has the ability to be a leader and aims to help others recognize their ability to lead a team to greatness.
Addisonisms: Quotes to Live By is available for pre-purchase now at johnaddisonleadership.com. Shipping is expected to begin in early December.