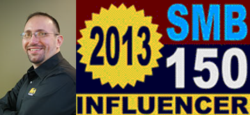 I'm grateful to the channel community for recognizing the work I've done over the past 12 years...
Orlando, FL (PRWEB) March 19, 2013
Over the past several months, hundreds of IT professionals from around the world have been engaged in the SMB 150 Channel Influencers contest. The SMB 150, which is a collaboration between SMB Nation and SMB Technology Network, is the SMB technology channel's annual list of its 150 most influential members.
On Friday, March 8, 2013, Brian Laufer from QuoteWerks, was named to the SMB 150 Channel Influencers List. Laufer joins a group of esteemed colleagues who were chosen during a two-phase voting process. In the initial stage, channel community members voted on nominees at SMB150.com. Following the community vote, a panel of industry experts consisting of Harry Brelsford, (SMB Nation); Karl Palachuk, (Great Little Book Publishing Co., Inc.); Josh Peterson, (MSP Score); Dave Seibert, (IT Innovators); and Dan Wensley, (Level Platforms), evaluated each nominee based on a pre-established rubric. The community vote accounted for 40% of each nominee's overall rating, with the expert panel's decision contributing the remaining 60%.
"I travel to numerous industry events and meet with VARs, MSPs, and Integrators to ensure that they have the tools that they need to succeed in the ever changing landscape," said Brian Laufer. "I'm grateful to the channel community for recognizing the work I've done over the past 12 years."
Brian Laufer has spent the last 12 years working at Aspire Technologies, Inc. He has helped make QuoteWerks the market leading sales quoting and proposal solution in the small and mid-market space. Working with partners, customers, and peers, Brian makes this happen through educating the community and by facilitating seamless integrations between distributors, PSAs, QuoteWerks, QuoteValet, and other partners.
Laufer and his/her fellow SMB 150 influencers are invited to attend the SMB 150 Awards Gala on May 4, 2013, during SMB Nation's Spring Conference at the Microsoft Conference Center in Redmond, WA. The event is hosted by SMB Nation and SMB Technology Network and sponsored by BlackBerry. Each SMB 150 winner will receive a personalized award plaque, recognition in the SMB Nation magazine and other media outlets, and a new BlackBerry Z10 device.
"I encourage everyone in the SMB channel community to join with me in recognizing and celebrating the winners of this year's SMB 150," said Harry Brelsford, Founder and Chairman, SMB Nation. "Each individual whose name appears on this esteemed list has strived to ensure that our SMB community is one that will continue to thrive and succeed. I am beyond excited to toast them at the awards dinner on May 4 in Redmond."
About Aspire Technologies and QuoteWerks®
Aspire Technologies, Inc., the developers of QuoteWerks, is one of the early pioneers of the Quoting Software space. QuoteWerks has received numerous awards and is the market leading sales quoting and proposal solution serving over 66,000 users in over 101 countries. QuoteWerks® integrates with leading CRM, PSA, and accounting packages, along with IT distributors D&H®, Ingram Micro®, SYNNEX®, and Tech Data®, enabling businesses in all industries to integrate QuoteWerks® seamlessly into their existing environments. Aspire Technologies is headquartered in Orlando, Florida and is a Microsoft Certified Partner and CompTIA member. For more information, please visit http://www.quotewerks.com.
About SMB Nation
SMB Nation is a media integration and events community, targeted at the small and medium business (SMB) channel partner/reseller/consulting/VAR community. SMB Nation spreads the knowledge of SMB technology trends through its conferences, books, print magazine, online services, and worldwide seminars and workshops. As an active participant in the technology community, SMB Nation has a long history of enthusiastic advocacy and evangelism. The SMB Nation tribe exceeds 54,000 followers worldwide. For more information, visit http://www.SMBNation.com, http://www.CloudNation.co and http://www.Telephonation.com.
About SMBTN
The SMB Technology Network (SMBTN) has its roots in partner groups focused on IT solutions & services for the SMB (Small Medium Business) space. Their focus includes Windows platforms including SBS (Small Business Server). In 2005 they combined a series of independent IT Professional groups in Southern California and around the U.S. into a single umbrella group, consolidated as SMBTN. Each group holds monthly meetings to discuss the latest IT business trends. In addition, the group has partnered with Microsoft at various events, further penetrating the SMB space. The SMBTN group continues to expand into new regions, chapters and members across the U.S. For more information, visit http://www.smbtn.org.