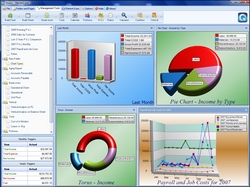 "Qvinci is 'awesome' because it fills a niche that many QuickBooks users in Small and Medium sized businesses need," said Doug Sleeter, the founder of The Sleeter Group.
San Marcos, TX (PRWEB) November 23, 2009
Qvinci has been honored by The Sleeter Group as one of its 2010 "Awesome Add-ons for QuickBooks." The award recognizes Qvinci as one of the most productive and effective technologies that enhance the world's most popular business management software. Qvinci is a small business management dashboard tool that combines ease of use with affordability to offer the most effective tools and practices to small businesses.
As the largest network of QuickBooks consultants, The Sleeter Group has members throughout the United States, Canada, and Europe. The awards were formally announced at the Next Generation Accounting Solutions Conference in Orlando, Florida, an annual even that showcases business management tools and technologies to consultants and accounting professionals who serve business clients.
"Qvinci is 'awesome' because it fills a niche that many QuickBooks users in Small and Medium sized businesses need," said Doug Sleeter, the founder of The Sleeter Group. "As the most widely-used small business accounting software, there is an incredible demand from users for the software to do just about everything." Add-on products are essential to many small and medium-sized businesses, providing them with the specific tools and functions they need.
Of the hundreds of technologies that are designed to enhance QuickBooks, Qvinci was one of only nine selected as an Awesome Add-on for 2010. "Its superior integration with QuickBooks, overall design, outstanding features and conformance with appropriate accounting standards make it an effective solution for many businesses."
"Qvinci puts QuickBooksand Excel information in the language business managers understand - relational, trended images. This approach affords better, faster decision-making," says Charles Nagel, CEO of Qvinci Software, "We are honored to be recognized by The Sleeter Group as an 'Awesome Add-on' and will continue to maintain the high standards this award recognizes."
"Before awarding the 'awesome' label, The Sleeter Group staff considers several factors that consultants and business owners need answers to," Sleeter added.
Products selected for the honor must meet the following criteria:

Show superior design, implementation and features.
Integrate with QuickBooks using best practices of the QuickBooks SDK programming guidelines;
Use appropriate transaction types of field population for recording data into QuickBooks so as to preserve and/or enhance the standard reporting features in QuickBooks; and
Conform to good accounting principles and operating standards
About Qvinci
Qvinci Software specializes in small business dashboard solutions. The Qvinci Suite offers small business owners the ability to easily interpret financial data through visually displaying trends and relational data and gives point and click tools to help with management and decisions. Each version of Qvinci offers increasing functionality up to Qvinci Pro which includes aggregating and displaying both Excel® and QuickBooks® data, Proforma, Early Warning Indicators, Drill Down, Various Ratios, Cost of a Mistake Calculator, and many more powerful tools.
About The Sleeter Group
The Sleeter Group is a nationwide community of technology experts who provide consulting services to small and mid-sized business owners. Since 1993, it has trained more than 30,000 business and accounting professionals through seminars and conferences. The group also publishes QuickBooks reference materials and textbooks used by more than 100 colleges in the United States. More information: Sleeter.com
Qvinci Software Contact
Charles Nagel
512.667.6383
The Sleeter Group Contact:
David Horwitz
888-484-5484
###