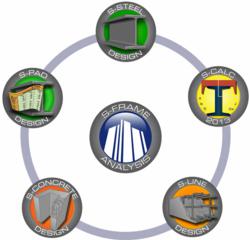 Interoperability is very important to our clients and it is has been a major focus of our R11 Development efforts.
Vancouver, BC (PRWEB) March 19, 2013
S-FRAME Software Inc., developer of structural engineering software solutions used by Structural and Civil Engineering Professionals worldwide, announced the introduction of new BIM/CAD links within S-FRAME Structural Office R11. Two brand new bi-directional links between S-FRAME Structural Office R11 and BIM solutions Revit and Tekla will be released with R11. A new DXF import link will also be available within R11.
The new bidirectional Revit & Tekla links provide extended functionality and improved model persistence between these BIM solutions and S-FRAME Structural Office R11. Enhancements include Objects transferred, Revamped User Interfaces, Improved Section Mapping, Multiple Export Features, and Easy 1-click support email function with optional file attachments. In addition, "Round Tripping" (bidirectional workflow) has been added to allow the engineer to export a model to S-FRAME, change the model and analyze appropriately in S-FRAME, and update the BIM model back in the native environment.
The DXF Import Link provides import features for many common DXF shapes, import of DXF layers as members, shells or panels, pre-assignment of properties to layers (such as sections, materials, or thicknesses), import selection by layer or entity, disparate unit systems conversion, joint tolerance checks for model connectivity, and more. Additionally, new interface features include: a 3D visualization window, fast rendering for large models, controllable layer and background colors, toggling layer and entity display, automatic S-FRAME group folder creation, and other productivity enhancing features.
R11 will be available starting on March 22, 2013.
Dr. Marinos Stylianou, CEO of S-FRAME, commented about the new BIM/CAD Link functionality, "It is not enough today to simply offer a single integrated suite of engineering software because most of our clients operate within disparate analysis and design environments. Interoperability is very important to our clients and it has been a major focus of our R11 development efforts. These brand new BIM/CAD links have been designed to enable smooth information sharing and engineering collaboration amongst various stakeholders in order to accelerate and streamline the analysis and design workflow when using multiple systems. These new links coupled with S-FRAME's open architecture (through Microsoft Access and Excel) can also be used to customize and automate the connection to practically any other software application."
About S-FRAME Software, Inc.
Since 1981, after introducing its first commercially available 2D analysis program, S-FRAME Software has led the industry in the development of easy-to-use, reliable, and innovative analysis and design software products trusted by structural and civil engineers worldwide working in a multitude of industries. S-FRAME's Structural Office is a structural model management environment that enables users to design robust structures regardless of geometric complexity, material types, loading conditions, nonlinear effects, and design-code requirements. S-FRAME's software products include: S-FRAME®, S-STEEL™, S-PAD™, S-CALC™, S-CONCRETE™, and S-LINE™.