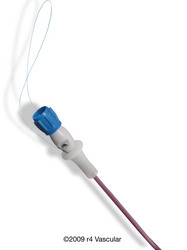 Maple Grove, MN (Vocus) August 1, 2009
r4 Vascular announces its entry into the interventional radiology marketplace with the nationwide launch of its new DrainEx™ Rapid-Exchange Drainage Catheter. The DrainEx™ catheter is a multipurpose drainage catheter system that is useful for a variety of commonly performed image-guided radiologic drainage procedures, including fluid, gastrostomy, and nephrostomy drainage applications. The DrainEx™ Rapid-Exchange Drainage Catheter is one of several technologically-advanced products now available from r4 Vascular.
The DrainEx™ catheter is a pigtail-type drainage catheter designed to improve percutaneous insertion, facilitate rapid securement, and simplify catheter replacement procedures. An important feature is the integrated design of the recessed suture cutter and silicone rollover sleeve that allows rapid, single-handed securement of the pigtail retraction suture. The most innovative feature of the DrainEx™ catheter is the rapid-exchange guide wire lumen; a concealed lumen that dramatically simplifies over-the-wire catheter exchange using standard techniques in the event of catheter occlusion.
According to Thomas M. Vesely, MD, FSIR, "Percutaneous drainage catheters are medical devices that require knowledgeable care in order to maintain patency and functionality. Multipurpose drainage catheters are often utilized to remove viscous bodily fluids and catheter occlusion is a common problem. Replacement of an occluded drainage catheter can be a difficult and time-consuming process. The hidden rapid-exchange lumen of the DrainEx™ catheter is a unique feature that provides an easy method to rapidly replace an occluded catheter. This rapid-exchange lumen is a truly innovative concept that represents a substantial design improvement when compared to currently available drainage catheters."
About r4 Vascular:
r4 Vascular is a privately-held vascular access company driving innovation in vascular access and interventional radiology medical technology. r4 Vascular's passion is "uncomplicating" access, chemotherapy, and drug delivery, through product improvements that help catheters remain patent and effective, with reduced risk of complications.
Contact:
John Zawacki
r4 Vascular, Inc.
763-494-8400
Fax: 763-494-8484
http://www.r4vascular.com
# # #